National Student Survey finds 90 per cent satisfied
20 August 2018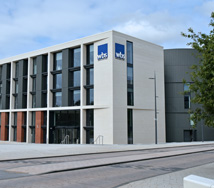 National Student Survey finds 90 per cent of students satisfied with WBS
The school improves in every category of the NSS
WBS beats UK average at universities is 83 per cent
Dean hails hard work of staff in improving student experience
More than 90 per cent of undergraduate students at Warwick Business School declared themselves satisfied with their course in the 2018 National Student Survey (NSS).
This is seven per cent higher than the UK average for universities and reflects a number of innovations brought in by the school to help students study and enjoy their time at WBS.
WBS improved in every category of the survey, with 81 per cent of students at the school completing it as the NSS recorded the views of 340,000 students studying at 400 universities and colleges across the UK.
The improvements included 90.5 per cent of students satisfied with the learning resources at WBS and 92.8 per cent agreeing or strongly agreeing that they have "had the right opportunities to provide feedback" on their course.
Andy Lockett, Dean and Professor of Strategy and Entrepreneurship, said: "There has been considerable innovation throughout 2017/18, to name but a few this has included: the introduction of module templates on the student platform my.wbs along with stronger feedback and improved organisation, management and communication within the programmes.
"Plus, we have increased visibility and availability for our students through drop-ins, personal tutoring and a variety of events.
"Together these initiatives demonstrate to our students that we genuinely care about their experience at WBS and this is reflected in the NSS result. Everyone should feel very proud of this achievement as it is all of our interactions with students that affect their impression of WBS."
The school is consistently ranked in the UK's top 10 for accounting and finance and business studies by The Guardian and The Times and Sunday Times Good University Guide and is the third most targeted university nationally by the UK's top 100 graduate employers, according to High Fliers Research.
John Rudd, Associate Dean for the Undergraduate programme, said: "This is an outstanding result, and I could not be happier. It reflects the dedication, commitment and energy of our academic faculty, professional services staff and, of course WBS undergraduate students.
"We have worked very hard to place students at the heart of our thoughts and activities, and they continue to tell us that they are having a great experience at WBS.
"Our NSS results completely endorse and validate what students have told us throughout the academic year, and the significant work we have done to improve the undergraduate student experience.
"There are many more innovations and developments already planned to improve the student experience, but we are particularly pleased, proud and happy about our NSS results this year."
For more on the WBS Undergraduate courses click here.