New Organisational Change diploma launched
03 July 2018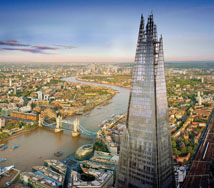 Year-long executive postgraduate Diploma is the third in a series
Classes will take place at WBS London at The Shard
Focus on competing in shifting competitive and regulatory landscape
Four four-day modules will offer practical change tools
Warwick Business School is launching a Warwick Diploma in Organisational Change for executive development - the third in a new series of postgraduate diplomas.
Taught at the school's WBS London base at The Shard, it is specifically designed to address the challenges facing senior executives for whom reliance on just one model of change is no longer enough.
For organisations to survive and thrive in dynamic contexts leaders and senior executives need to be ready to engage with the full spectrum of change strategies, from incremental change to organisational transformation, as well as the development of new cultures of agility and responsiveness.
The Warwick Diploma in Organisational Change provides this comprehensive view, led by experts in organisational strategy, behaviour and leadership, to allow participants to craft the tailored strategies that are needed in environments where the pace of change is increasing.
The programme format also allows participants to make an impact on their business with the minimum disruption to their working lives.
Andy Lockett, Dean and Professor of Entrepreneurship and Strategy, said: "At WBS we are constantly seeking new ways to work with executives and organisations, share the results of our research and teaching.
"Through the Warwick Diploma in Organisational Change participants and their organisations will be able to understand and implement new models and approaches to organisational change and leadership using the latest insights from WBS faculty in the areas of strategy, organisational behaviour, leadership and innovation."
The first intake for the Warwick Diploma in Organisational Change is in May 2019 and for which applications are now open.
There will be four four-day modules on Introduction to Organisational Change, Creating Strategic Advantage, Implementing Organisational Change and New Perspectives on Organisational Change, all delivered over a year.
As well as gaining the latest knowledge, research and tools in organisational change and leadership, participants will be able to build a supportive network among the cohort and with WBS academics and Professors of Practice, who have been plucked from industry including the boards of FTSE 100 companies.
Tim Wray, Programme Director of the new Warwick Diploma in Organisational Change and Professor of Practice, said: "The Warwick Diploma in Organisational Change supports people who are seeking to drive and enable change. They want to understand deep-seated phenomena that can hinder successful change in order to devise new strategies and ways of addressing change for organisational success.
"This programme will enable executives who are charged with responsibility for driving change, to be more skilful, more flexible, and to build their capabilities to lead and deliver change."
For more information on the Warwick Diploma in Organisational Change click here.