New York: The big lights that inspired one graduate
28 April 2016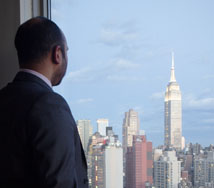 The big lights of New York have inspired one WBS alumnus
Ram Sri-Saravanapavaan works for Moody's in downtown Manhattan
He learnt how to develop reports and research at WBS
Meetings and discussions with C-level Management is a highlight
Hip-hop, rooftop lounges, company big shots and Wall Street: it sounds like a recipe for the latest Martin Scorsese blockbuster, but for Ram Sri-Saravanapavaan it is just an average week.
The 30-year-old would never have imagined just a few years after being a hip-hop dancer at Warwick Business School, he would be teaching dance moves to the biggest Pan-Asian professional organisation in the US. That is when he is not working hard at his day job at credit rating agency Moody's in 7 World Trade Centre, downtown Manhattan.
While he may have enjoyed dancing in his spare time, his journey to New York began while sitting in the lecture theatres of WBS.
Ram graduated with a Master of Arts (MA) in Management and Organisational Analysis at WBS, prior to which he also did his MSc Analytical Chemistry and BSc Chemistry with Management at the University of Warwick.
He grew up in Surrey, England, but was actually born in Sri-Lanka, and moved to South West London when he was six years-old.
His father was a lawyer and his mother a teacher, so Ram admits he was not certain if he wanted to go into finance from the offset, but taking on a challenge that would stretch him appealed.
He says: "I didn't know I wanted to really go into 'hardcore' finance. But I did know that I wanted to work in a fast-paced environment, making decisions that would make a difference.
"I wanted to work in a place where I met a lot of different people, and learnt a lot from them. One of my favourite quotes is 'the job doesn't get easier; but you get stronger'. I don't think you grow as a person – both personally and professionally – unless you are out of your comfort zone. I feel that working in finance at Moody's does push you, and as a result you grow both professionally and as a person."
Ram believes his time at WBS proved useful in developing himself initially.
"I really learnt a lot from the MA course, especially how to use words and qualitative analysis to look at financial institutions," he adds. "We do a lot of quantitative analysis, but also qualitative analysis is very important in the work I do."
He has been interviewed and quoted by top financial media such as the Financial Times, Wall Street Journal and Reuters, to get his views on the research he writes.
"At the end of the day, Moody's helps investors make decisions," says Ram. "I have to put numbers and quantitative analysis into written reports and research. My graduate degree at Warwick Business School certainly taught me a lot on how to do this".
After graduating from WBS, Ram joined Moody's at its Canary Wharf base in London before being transferred to its New York headquarters.
In his first year in the Big Apple, Ram lived on Wall Street and now resides just two blocks from the neon lights and buzzing billboards of Times Square, on the 34th floor of a luxury high-rise, with views of the Empire State Building and Hudson river.
"I work within a team called Global Managed Investments: our team is spread across the world, with offices in Paris, New York, London, Argentina, Mexico, Brazil and Asian offices," adds Ram.
"After two years in London, I was relocated to the headquarters of Moody's at the World Trade Centre, and promoted two months after the move. I am actually moving to the Banking team shortly, it is a great opportunity to learn new skills and will allow me to grow my career further.
"In the US for the industries that I cover - banks, asset managers and other financial institutions – the companies are a lot bigger, and the work involved is extremely interesting."
It is Ram's duty to perform both quantitative and qualitative analysis on key factors influencing and driving the credit quality of banks, finance companies and asset managers; write industry research, develop financial models and databases, and meet regularly with C-level executives to evaluate a company's performance.
He says: "The best thing about Moody's is the amount of exposure you get with C-level managers. Frequently we have meetings with the CEO, CFO and their direct reports. It's just amazing, hearing very experienced professionals talk about their industry.
"A highlight of 2016 so far is meeting a certain CEO and a billionaire investor; he just called me up one morning - after reading my research - and said he was in New York and wanted to meet."
Outside of work Ram says life in New York is also eclectic.
"I work in finance by day, but there are so many things to do in NYC. I've taught several dance classes for professional networks here, just for fun though nothing serious," says Ram. "In fact, a few months back I taught a hip-hop and Bollywood fusion dance class to Ascend – the largest Pan-Asian professional network in the US."
This love for dancing stems from a hip-hop dance group named 'EQHO' that Ram was part of when he was studying at WBS.
When he is not tearing up the dance floor, Ram is chopping up ingredients as he has become a true foodie thanks to all the restaurants in New York.
"I actually won a food competition at Moody's last year, which was a total surprise: I cooked Tamil Spicy chicken curry I guess New Yorkers like spicy food" he adds.
Whether he is busting a move on the dance floor or crunching numbers at work, Ram has proven there is plenty to be said about being an Englishman in New York.