Nick Chater explores behaviour in The Human Zoo on BBC Radio Four
05 March 2013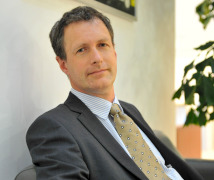 Take part in the online experiments at the Human Zoo online lab.
Just how we behave and make decisions will be explored in a new BBC Radio Four series called The Human Zoo involving Warwick Business School
Professor Nick Chater
.
The Professor of Behavioural Science will be joining presenter Michael Blastland to look at how far the human mind is led by reason, emotion and instinct.
Professor Chater was recorded doing experiments with students at Warwick Business School, looking at the nature of bias, judgement and decision-making.
Listeners will be able to follow the programme via the BBC Radio 4 website and find further information about some of the experiments at Warwick Business School's online lab.
Each week the programme will use examples of every day topics from what is going on in the news to what is done in the kitchen to examine the sometimes irrational human mind.
Professor Chater said: "This series is a great chance to explain the complex processes and sometimes irrational thinking that goes into our decision-making. The world of economics has a lot of models and theories that fall down because of the subtleties of human behaviour.
"In some of these experiments we can see how decision-making is distorted by biases and we will seek to find examples going on in the real world and in the news.
"Coming from a behavioural science background the programme will look at how we reason and the subtle influences that lead us to some decisions that go against logic and against economic theory.
"The online experiments at The Human Zoo website will be very interesting and hopefully give us some fascinating results and talking points. The first one is on something called 'change blindness' where people are asked to spot the difference on several pictures."
One of the experiments recorded at Warwick Business School - known as the Winners' Curse - saw students bidding to win a jar of coins. The highest bid was £9, but the jar only had £6.13 in it.
"That is exactly why it is called Winners' Curse," said Professor Chater. "Because you are bidding to win the jar people tend to over-estimate as they are in competition. This is seen quite often in the oil and mining industry when companies are bidding for oil or coal fields."
Fellow Warwick Business School Professor Daniel Read is also set to feature in the six-part series.
Both are part of the WBS Behavioural Science group, which pools top brains from the world of psychology, economics, mathematics, statistics, physics and anthropology to bring new thinking on decision-making, strategy, finance and marketing to the business world.
"We look at how individuals really form judgements about the world and how they make decisions," said Professor Chater.
"This will be fully explored in the programme and hopefully we will show in an entertaining way just how emotion and instinct play as big a part in our decisions as cool logic."
The Human Zoo starts on BBC Radio Four on Tuesday March 5 at 3pm.