Nudge Nudge Wink Wink win the second Nudgeathon
30 September 2015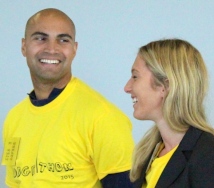 A fresh new look for the NHS website to persuade more women to take folic acid won Warwick Business School's second Nudgeathon held over two days at WBS London at The Shard.
Using insights from behavioural science, nudges have been used to solve a range of issues from persuading more people to pay their taxes on time to helping households have their lofts insulated.
Based on the idea of Hackathons, which brings programmers together to solve a computing issue, the Nudgeathon saw eight teams with students from 19 countries tackle the problem of women failing to take folic acid before and 12 weeks into the pregnancy.

Folic acid - or vitamin B9 - reduces the risk of a baby being born with a neural tube defect (NTD), a condition that affects about one in 1,000 babies, and can cause brain problems, spina bifida and death.
The problem was developed in collaboration with the Behavioural Insights Team - sometimes known as the 'Nudge Unit' and set up by the UK government. Its managing director Owain Service along with Professor Daniel Read, of WBS, Liz Barker, of consumer research group The Behavioural Architects, and Ed Gardiner, Behavioural Design Lead at WBS, were judges for the competition.
And after listening to presentations ranging from a smart pill box called a Foliminder to a collaboration with a period tracking app they felt Nudge Nudge Wink Wink's proposal deserved first place and the £500 prize.
Professor Read, Professor of Behavioural Science and part of the Behavioural Science Group at WBS, said: "The teams did amazingly well to put in so much detail and come up with some excellent ideas in less than two days. This is a tricky problem, but we liked Nudge Nudge Wink Wink's idea because of its feasibility and the use of behavioural science in the re-design of some pages of the NHS website.
"It seems a relatively low cost idea and the way they re-designed the NHS website was very clever, they removed a lot of friction in the process and made the message about folic acid easy to understand, simple and attractive.
"The competition was a great success and we hopefully inspired the 40-odd students that took part to look at other problems that could be approached with behavioural science."
Nudge Nudge Wink Wink comprised of Archy De Berker, Joe Minas, Keith O'Brien, Michael Scoins and Nadia Chan, one of three teams from UCL.
Mr O'Brien said: "The Nudgeathon was a profound, intense, and fun experience. Looking out from level 17 of The Shard, where Warwick Business School has its offices, reminded us that whatever behaviour change ideas we had in here, needed to be designed to work 'out there' in the streets and homes of London.
"Perhaps it was all the coffee and sugar Nudgeathon supplied us with in our dedicated incubator rooms, but we rarely stopped enjoying ourselves - even at 9pm on the Monday night when we scrapped all the ideas we had previously.
"We should say 'winning felt amazing', but in truth we were shocked the judges chose us. While we knew our presentation to redesign the online journey experience of potential mothers seeking pregnancy information was full of behavioural psychology, we worried it was almost too simple. Thankfully the judges disagreed; simple and practical, while taking into account existing behaviour and systems, was the key.
"The Nudgeathon was a thoroughly inspiring two days and worth the hard work. It forced us to break free of rigid academic thought, and confront the need for creativity and simplicity in designing real-world psychological solutions to difficult problems. We can't help notice it coincided with Obama's declaration that all government departments should use behavioural insights in their work. Well Obama, we are available for hire."
After a team building exercise with Professor Jonothan Neelands, of WBS Create, the teams were given a crash course in the principles of behavioural science by Professor Read and a lecture on how it is applied by Pete Dyson, choice architect at #ogilvychange, the behavioural science arm of marketing and communications firm Ogilvy & Mather, who also supplied a team of their own to take part, though it wasn't part of the competition.
Professor Rebecca Cain, of Warwick Manufacturing Group, also gave a lecture on design thinking and prototyping. The sessions were overseen by Lali Dangazele, an actor currently doing a PhD at WBS.
Umar Taj, a WBS PhD student who coordinated and designed the event along with fellow student Julia Kolodko, added: "The Nudgeathon provided students with a great opportunity to apply their knowledge and skills to solve a real life behavioural problem.
"The students worked hard and really enjoyed the challenge. Congratulations to Nudge Nudge Wink Wink on winning, but well done to all the teams for such innovative ideas."
Relive the Nudgeathon as it happened here.