One man's trash is another man's treasure
11 April 2017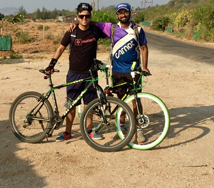 WBS Alumnus saw business idea in the sharing economy
Mutterfly is brainchild of Akshay Bhatia a BSc Accounting and Finance graduate
The platform allows people to share everything from bikes to drones
It started as a simple platform to share an interest in cooking and food
Picture the scene: an office room has an unused printer sat next to an ageing desktop which in turn is plugged into a rarely used monitor. A digital camera sits on the same desk with an old Xbox console surrounded by other bits of tech sitting idly underneath the desk.
Most people would simply call it a normal, somewhat cluttered, untidy room, however Akshay Bhatia saw it as a perfect business opportunity.
Akshay, a BSc Accounting and Finance graduate, established his start-up Mutterfly to help people monetise the clutter hanging around unused in their homes.
Mutterfly is a peer-to-peer platform allowing users to rent items such as games consoles and bicycles from people around their local area. They can list unused items to earn some money from them – in essence renting them out.
It started out, however, as something quite different.
"When I was working at Morgan Stanley in London, I got tired of cold meals on the go," says Akshay. "The long hectic hours meant my work pattern was always erratic, so I decided to set up a platform for sharing food with my colleagues. This idea seemed perfect for the Indian market.
"The main motive was to connect people on one thing everyone loves, and that is food. People could request dishes from their neighbours and at the same time home chefs could list their speciality and could make them commercially viable."
While launching the food platform Akshay noticed regular requests were coming through asking for certain cooking equipment such as grills, baking trays and pans.
"It became evident at this point we always want more than what we have, but in most cases the requirement for this item is only on an occasional basis," adds Akshay.
"That prompted us to challenge the status quo - why should every item need be bought ? As we conducted further research we soon realised that sharing resources was the bigger problem we were offering a solution to and this made us turn our efforts and pivot into a resource sharing platform."
Akshay came to Warwick Business School in 2008 to study accounting and finance as it runs in his family, but the learning environment at WBS soon stoked the entrepreneurial fires for Akshay.
The 26-year old from Mumbai adds: "Numbers excited me in a way and it seemed a natural step to follow my family.
"However, once I started at university, it didn't take long to become more entrepreneurial in my outlook. The range of course modules with an entrepreneurial link – business planning, entrepreneurship, small businesses – all came together to unconsciously make me think differently.
"It broadened my horizons. I remember for one module we had to come up with a business plan and pitch it to professors – it was one of the most enjoyable modules I did during my time at WBS. It excited me and made me think entrepreneurship was something to look at in the future."
A background in finance and accounting might not seem the most logical step into start-ups, but for budding entrepreneurs Akshay has some reassuring words.
"I've always found the best ideas are often developed by people not in industry," says Akshay. "In terms of tech look at Travis Kalanick, he was just a passenger who had a bad experience and he went on to establish Uber - the story of Amazon was similar. Often these individuals didn't belong to the same field, but this was a bonus as they could bring their own skill-set to the problem.
"In my own example, I could pitch to investors with confidence as the finance degree made me comfortable with numbers, which gave them confidence in the figures we were discussing too. Similarly, use the knowledge from your degree – but don't think you are then stuck in one sector for the rest of your career.
"One of the best things about Warwick is there are plenty of societies at WBS too, so get out there! Experience something different. I joined a wine and cheese society and Bollywood dancing society, these help you implement things you learn differently and expose you to new domains – learn something new!"
Of course with the nature of the service offered by Akshay, there have been some strange requests in the time the site has been live.
"We've had all sorts of strange items including socks, wedding gown and a box of tissues, in many cases we filter out such items as they are often tongue in cheek.
"On the other side of the coin, though, we also have some very expensive listing, the most expensive of which being a top of the range DSLR camera and a drone. So there is a nice contrast there."
Akshay values his intuition in his drive to succeed, a characteristic of the entrepreneurial mind-set identified by WBS research, and he sees more business ventures in the future as a real possibility.
"Right now at Mutterfly we're at the growth stage," he says. "So the plan is to scale-up our presence in other cities. We have quarterly milestones of targeted cities we want to be present in.
"We're also in the process of adding more verticals – the next line of things will be motorcycles, so you'd be able to rent a motorbike out for the weekend, for example. Then there is the fashion and jewellery space.
"I think it's the entrepreneurial nature, but I'm very restless by nature and I'm sure this will magnify into something else.
"There's always a new problem to solve."
Find out more about BSc Accounting & Finance here.