Operating at the cutting edge - and studying for the Warwick MBA
15 March 2013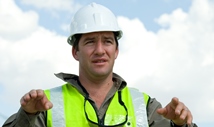 Following a request from the Financial Times to find a graduate from the Warwick MBA by distance learning to write a report on their hopes and fears while studying, Howard Marsden was selected from a short-list. His article, published in the Financial Times Online Learning Report on Monday 11 March 2013, can be read on the FT's website here.
Howard is Operations Manager at the Ghaghoo Diamond Mine, located in the Central Kalahari Game Reserve in Botswana. He works for Gem Diamonds, a company operating across Europe, Africa and Australia, specialising in high quality gem diamonds. The Ghaghoo Diamond Mine, where Howard carried out much of his MBA studies, has an estimated resource of 20.53million carats, with an in-situ value of £3.56billion.
Achieving an accredited and top-quality MBA was always his intention, as well as a long-standing ambition to run his own diamond mine. When he commenced his MBA studies in 2010, he did not realise he would be working to achieve both ambitions at the same time!
His article reflects the tremendous drive and determination that he needed to meet several essential demands simultaneously:
maintain the pace of study he had set himself to complete his MBA
build up a team that would pull together under extreme and basic living conditions far from civilisation and safety
complete the setting up of the mine on schedule and within budget.
Dean of WBS, Professor Mark P Taylor, comments, "Howard Marsden's understated and factual report for the Financial Times belies the energy, dedication, and sheer hours of hard work he put into meeting his aims over the past four years. It is part of our mission to produce world-class, socially responsible, creative leaders and managers, and Howard is certainly a flag bearer in this respect."
Watch our film about the Warwick MBA by distance learning