Pietro Micheli tells summit design can boost everyone
20 February 2014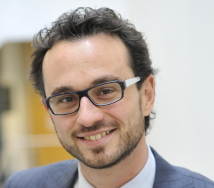 Associate Professor Pietro Micheli told the Design Council Summit that design can make a difference in every context from SMEs to large multinationals and manufacturing to service-based firms.
The summit at the British Museum in London, which attracted more than 250 people from the design industry and saw Barclays, Herman Miller, Virgin Atlantic, tech start-up Berg and creative ad agency BBH among the many presenters, used Dr Micheli's report Leading Business by Design as its basis.
Speaking on a panel discussing 'What has design ever done for us?' and hosted by BBC Breakfast business journalist Steph McGovern, Dr Micheli said his research had found that, notwithstanding differences in context, very similar dynamics and impacts could be seen in all the companies studied.
However, simply allocating larger budgets to design and recruiting good designers wouldn't work.
"The role of senior management is fundamental in getting design into the organisation," Dr Micheli told the audience. "Also, the primary role of heads of design is not to design nice objects and services, but to make their organisation aware of the value of design and the difference it can make. Design needs that voice among senior management."
Dr Micheli, who is Associate Professor of Organisational Performance at Warwick Business School, conducted a study based on 53 interviews with 12 companies, ranging from Barclays and Diageo to SMEs DCS Europe and Trunki, and looked at how design was used and how it added value to the organisations.
The study found design worked best when it was used as a strategic tool across the organisation.
"Design is most powerful when it is culturally embedded in the organisation," said Dr Micheli, who also found design can be used as a competitive advantage in some sectors.
"Where design is widespread in a sector, organisations are almost forced to integrate design. Where it is not widespread it gives organisations the opportunity to use design for differentiation."
Rob Brown, head of design at Barclays, revealed how his team is creating an internal YouTube for its 150,000 employees to suggest feedback and new product ideas.
"We're not watching what other banks are doing, we're looking at what start-ups are doing," said Brown. "Our design team is only two years old but already 180 strong, working across every business unit on 47 live projects."
Dr Micheli revealed that design is at its best when it focuses on addressing customers' problems, also when such customers are in other businesses.
"In fact, the impact design makes is bigger in B2B than B2C," said Dr Micheli. "So there is more reason to introduce design in something that is not customer facing."
And the design of work environments is also crucial to cultivating a collaborative approach and having design embedded throughout a company.
"All of these companies the study looked at used design of space to trigger change, to promote cross functional collaboration and bring people closer to each other," said Dr Micheli. "How the space is used makes a difference to how people want to work - collaboration doesn't just happen through an email."
Ken Giannini, who, as director of interior design at Scott Brownrigg Architects worked on Google's London headquarters, revealed how the "in-between spaces" were increasingly important in offices – those spaces between desks that create communities and collaborations.
"We are seeing a blurring of the boundaries, where offices are taking inspiration from restaurants, hotels and pubs," said Giannini.
Dr Micheli explained the impact of design on performance has been established – with the re-design of Johnnie Walker Blue Label whisky by Diageo producing global net sales growth of 27 per cent being a prime example – but the study found plenty of other areas where value was added.
"Business leaders cited enhanced efficiency in production, increased consistency in the company's portfolio, faster time to market and enhanced customer satisfaction," said Dr Micheli. "Design can also improve the work environment and impact on people's behaviour."
Although design was central to many companies there was no robust method to assess its impact on company performance up front.
"We found that organisations need to trust designers and not measure it to death," said Dr Micheli.
"There seems little point in analysing the impact of design up front; this will lead to less risk-taking. Senior management has to trust design, let it take risks and find its way. Analysis has to come at the end of the project, to review its impact, which can help design strengthen its case and show its worth."
To download Leading Business By Design click here.
Dr Pietro Micheli teaches Performance Management on the Warwick Executive MBA and Design in Business on MSc Managementand Warwick Business School's Undergraduate courses.