Practicing Strategy is picked for book of the year shortlist
01 November 2013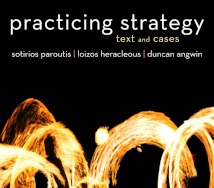 Warwick Business School academics Sotirios Paroutis and Loizos Heracleous have seen their book Practicing Strategy shortlisted for the 2014 CMI Management Book of the Year award.
Practicing Strategy has been selected by the award committees in the final 25 management books out of 142 entries.
The prize, awarded annually by the Chartered Management Institute (CMI) in association with the British Library, aims to celebrate the very best in the field of management writing.
Practicing Strategy has been shortlisted in the Management and Leadership Textbook category, one of five categories from which one overall winner will be chosen as Management Book of the Year.
Dr Paroutis, Associate Professor of Strategic Management at WBS, said: "We were delighted to receive the news that our book was selected in the final five textbooks for the CMI award. This serves as another piece of recognition of the quality of research and education we provide at WBS. I would like to take this opportunity to say a big 'thank you' to our fabulous students – without your inspiration and insight the book would simply not have been possible."
Professor Heracleous, Professor of Strategy at WBS, said: "Our book fills a gap in the current offerings of strategy textbooks. We aim to help students appreciate the complexities of how strategy is carried out in practice, based on our in-depth case studies and field research. We are delighted to see our book shortlisted for this noted award."
The Warwick Business School academics wrote the book alongside Professor Duncan Angwin, of Oxford Brookes University, who earned his PhD from the University of Warwick.
The winner of the Management and Leadership Textbook category, which goes to the book that will most effectively support a course of study on a management and leadership topic, will be announced along with the overall winner at an awards ceremony at the British Library on February 3.
A full list of the shortlisted books and more details on the expert judging panel are available via the competition website www.managementbookoftheyear.org.uk. Follow the hashtag #managementgold on Twitter to get tips, advice and information on the books in this year's competition.
Last year's overall winner was The Management Book by Richard Newton, and previous category and overall winners have included Henry Mintzberg, Clayton M. Christensen and Philip Kotler.
Dr Sotirios Paroutis teaches Strategy & Practice on the Warwick MBA by distance learning, Warwick Executive MBA, Warwick MBA by full-time study and MSc Marketing & Strategy. Professor Loizos Heracleous teaches Strategy & Practice on the Warwick Executive MBA and Strategy in Practice on MSc Marketing & Strategy.