Relive the Public Confidence In Policing Conference
29 March 2016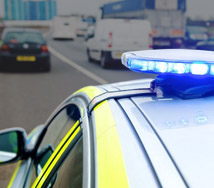 Police officers and academics revealed how to improve public confidence in policing at a conference at Warwick Business School.
Today's police forces are being challenged to respond to cuts, to the changing nature of crime, and to changes in police governance in England and Wales - with the introduction of directly elected Police and Crime Commissioners. For any police force to be effective in safeguarding the public, public confidence is critical.
The Public Confidence In Policing Conference, sponsored by the British Academy, examined how public confidence can be measured effectively and how it can be earned by police.
Speaking at the conference were Marcus Beale, Assistant Chief Constable West Midlands Police, and, Bernard Rix, CEO of CoPaCC (Comparing Police and Crime Commissioners). They were followed by a panel discussion on 'how do we measure confidence and how could we improve confidence' by Kevin Morrell, of Warwick Business School, Ben Bradford, of the University of Oxford and Harry Barton, of Nottingham Business School.
There were also talks from Detective Inspector Ben Hart, Greater Manchest Police, Reka Solymosi. of Transport For London, Michael Rowe, Professor of Criminology, and Jane Callaghan, of the University of Northampton.