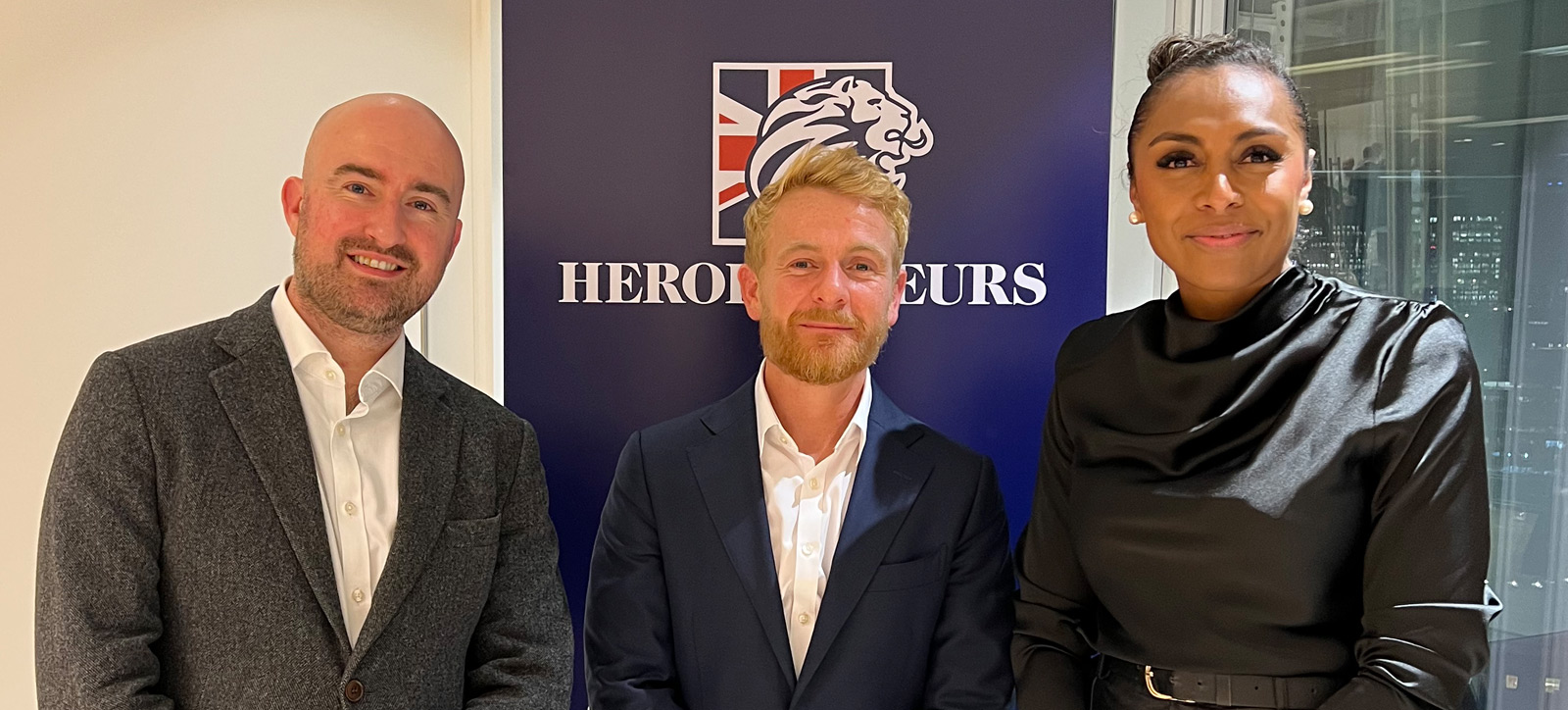 Heropreneurs: Winner of the WBS Bursary Award Joe Pollard (centre) with runners-up Isabella Naiduki (right) and Henry Middleton (left)
An Armed Forces veteran who is transferring his skills to the online retail world of Amazon has won a 100 per cent bursary to study for an MBA at Warwick Business School.
"It's a very fast-paced world at Amazon, but what the military teaches you to do particularly well is to bring order to the chaos and prioritise things effectively," said Joe Pollard, who is celebrating after winning an Executive MBA place at WBS in London at The Shard for free at the Heropreneurs Awards. The course usually costs £64,220.
The Amazon Corporate Military Program, which offers military veterans a path into corporate roles, is the latest challenge in a career that Joe believes has highlighted his "inherent restlessness".
"Whether on the bridge of warships, implementing cutting-edge technology to enhance Royal Navy processes, or in my recent endeavour to improve intelligence co-operation, I've always been committed to progress and innovation," he said.
"But what I think I'll learn from the Executive MBA is the right way to do those things. The right ways to disrupt or introduce change to things that are not quite working so that the best outcome is achieved.
"It will give me the right fundamentals."
In a partnership that goes back to 2017, WBS has teamed up again with Heropreneurs, a charity that supports the business ventures of the Armed Forces community, to offer serving or ex-military personnel, including spouses, the opportunity of a place on one of its world-class MBA programmes.
While Joe took first place at the awards held at WBS London at The Shard, two runners-up also secured substantial scholarships to undertake an MBA. Henry Middleton, who served for 14 years in the British Army and international development and is Chief Operations Officer for a social enterprise empowering local communities in fragile and conflict-affected countries, was awarded a 75 per cent bursary to study for the Accelerator MBA, starting in March next year.
"It's brilliant to be a finalist," Henry said. "My advice for those in the military community considering going for the award, would be to just do it."
Isabella Naiduki, a military veteran's spouse who is a Senior Transformation Analyst with vehicle connected services at Jaguar Land Rover, will receive a 50 per cent bursary so that she can start a Global Online MBA in January 2024.
"This award is such a great opportunity," Isabella said. "It is an opportunity to study, to further your career and also a great opportunity to network and meet people from similar backgrounds who understand your experiences."
Two other finalists also received WBS scholarships: James Smith, who is Second-in-Command of a Royal Navy warship; and George Christie, a former Captain in the British Army currently working with an international investment bank. All the finalists were assessed by a panel of judges.
Speaking at The Shard awards ceremony, Andy Lockett, Dean of WBS and Professor of Strategy and Entrepreneurship, said: "It is a pleasure to be working with Heropreneurs again to identify would-be students from the military community. There are always interesting and inspiring entries from Heropreneurs, and this year was no exception.
"At Warwick Business School we believe in what we call a Change Maker mindset: those who think beyond themselves and their environment, who are open to other viewpoints, and who consider the ripple effect of what they do on a personal, social, and commercial level.
He added: "Those leaving the Armed Forces or from the military community already have tremendous skills and have proven their willingness to work hard and learn. We can provide them with the knowledge to succeed in business as they take that next step in their professional development."
Joe's military service started in the Royal Navy where he won the Cyril Bone Scholarship for exceptional leadership and teamwork.
He was also drafted into a multi-disciplinary team by consultants Deloitte to conduct an organisational redesign for the Royal Navy headquarters in Portsmouth, and was later leading teams in the initial stages of the COVID-19 pandemic (to support Greater Manchester City Council) and leading partnership development between a number of international intelligence organisations.
"In my final role I led an incredibly diverse group with a range of non-traditional military backgrounds," said Joe. "The diversity of thought in the group undoubtedly enabled us to seek new approaches to complex problems with fresh perspectives.
"I've always believed we gain the most insight from those unlike us."
Hence, the famed diversity of Warwick MBA cohorts is one of the things he is looking forward to the most when he joins the Executive MBA (London) in September 2024.
Joe said: "I want to learn from and be around people who approach problems differently and are highly accomplished in their own fields. That way I can learn about the different opportunities out there in the world."
For now, though, he is working hard on a pan-European retail project as part of the Amazon Corporate Military Program. Beyond the professional realm, he also finds time to mentor children through The Kids Network.
"This is all about recognising the transformative power of guidance during crucial developmental stages," the Armed Forces veteran said.
Joe is now entering his own crucial stage of development as far as his career goes. "I want to thank Heropreneurs alongside Warwick Business School for this incredible opportunity, which is truly life-changing," he said.
"WBS represents more than just an educational institution to me. It is a global network of leaders and alumni committed to driving change, and I'm looking forward to being part of that."