Roberts wins teaching's biggest prize
12 June 2014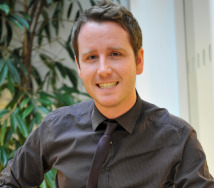 Warwick Business School Assistant Dean Ashley Roberts has been awarded the most prestigious prize for excellence in higher education teaching.
Roberts is one of 55 lecturers and academics across England, Northern Ireland and Wales to be chosen for a National Teaching Fellowship by the Higher Education Academy (HEA). He is the seventh recipient of the award within the discipline of Business and Management since the awards were launched in 2000 by the Higher Education Funding Council for England (HEFCE).
Thanks to his innovative 'open space' teaching – which uses drama, music and dance to teach students at the business school - Roberts was chosen for demonstrating "individual excellence and raising the profile of excellence" in teaching.
Roberts said: "It is an honour to be awarded a National Teaching Fellowship. It is a reward for the innovative teaching that takes place at Warwick Business School and recognition of our ambition and commitment to creativity being at the heart of everything we do at the school.
"We want to push our students and challenge them to be not only the business leaders of tomorrow, but creative, critical and innovative thinkers. Through 'open space' learning we are attempting to do that, to make sure our students look at things differently.
"I'd like to thank my colleagues and students for their support and inspiration and for being so great to work with."
Roberts will receive £10,000 which will be used to support his professional pedagogical practice.
As part of Warwick Business School's WBS Create department Roberts looks to inject creativity into the school's teaching methods and last year received an award from the British Academy of Management for his research into creative learning.
Professor Stephanie Marshall, Chief Executive of the HEA, said: "Each year I look forward with great anticipation to the announcement of our new National Teaching Fellows. It is always such an inspirational time as we welcome 55 outstanding teachers in higher education to our growing family of NTFs. This year is no exception.
"While their fields of expertise are many and varied, what they each hold in common is their commitment to learning and teaching, their dedication to their students, and their tenacity in sharing their expertise with others.
"What also strikes me about our National Teaching Fellows this year is their willingness to learn from others, showing us that learning is an ongoing process from which we can all benefit.
"Our students deserve the best possible learning experience and it is colleagues like those we celebrate today who can make a real difference to their futures. I congratulate all the successful Fellows and wish them every success in their own learning and teaching experiences."
Roberts is now a member of the Association of National Teaching Fellows and will be handed his National Teaching Fellowship at a ceremony at Liverpool Cathedral in October.