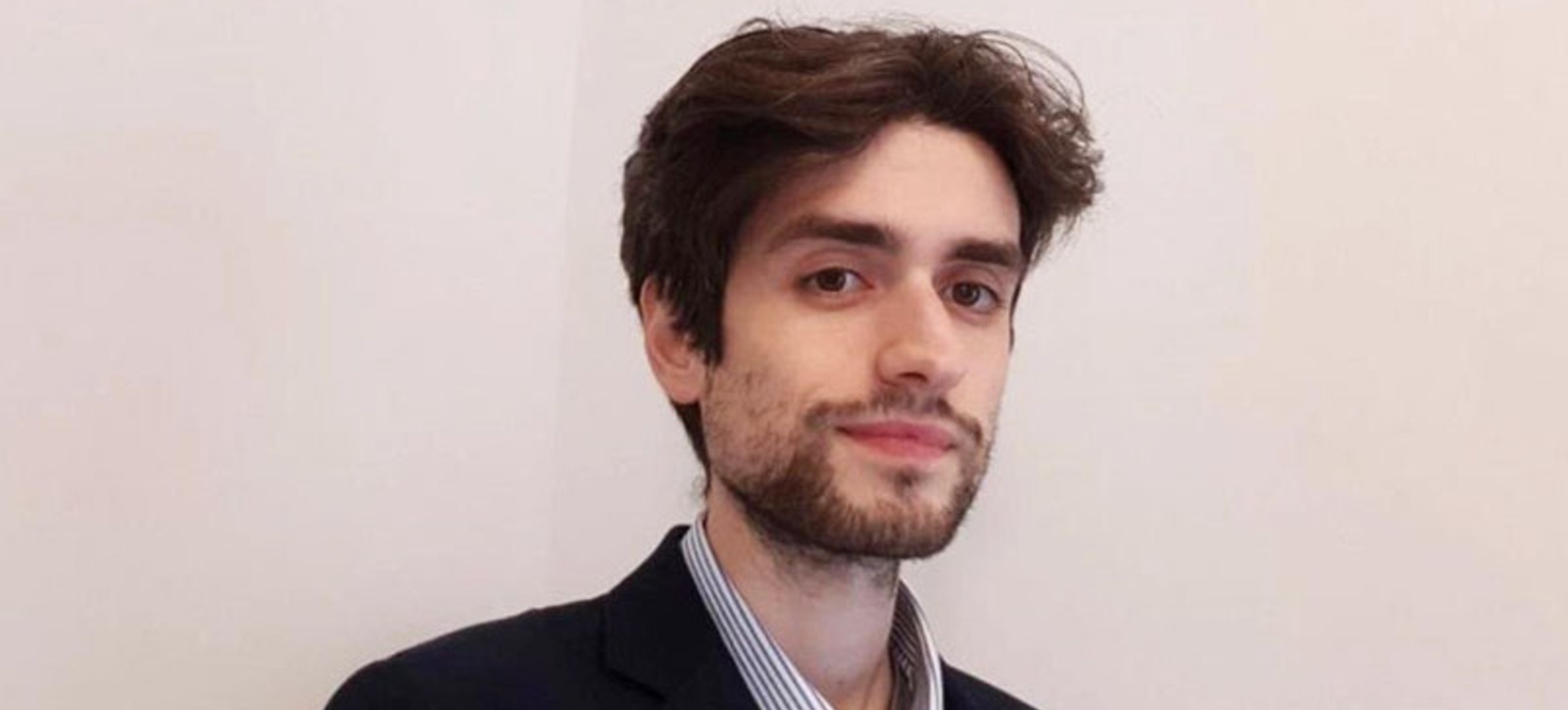 Francesco Abate won a 50 per cent scholarship to study an MSc Finance
It motivated the Italian to earn a distinction and pursue a job in the City
The course was invaluable in helping Francesco stand out in the job market
The 23 year-old is now applying what he learned to new analyst role
Italian Francesco Abate believes a scholarship gave him the motivation to secure a distinction for his MSc Finance and land a top job in the City.
The 23 year-old recently joined the investment division of Willis Towers Watson, one of the largest insurance brokerages in the world with assets totalling $38.5 billion and more than 46,000 employees in 140 countries.
Francesco won a 50 per cent scholarship to study for an MSc Finance at WBS and he believes his dissertation on asset prices and 'high moments' secured him his role as a Financial Modelling Analyst at Willis Towers Watson.
"It was essential for me to pursue an MSc Finance, in order to develop an advanced understanding of the topics and I knew that studying it was necessary to pursue a career in very specific industries that require high technical knowledge and skills," said Francesco, who gained a First for his BSc Economics and Finance at the Università degli Studi di Napoli Federico II in his home city of Naples.
"The scholarship award was a great way of reducing the economic burden on my parents, who ultimately were the ones who financed my studies, and for that I am extremely thankful. It also motivated me to give my best and although the course was very challenging in terms of exams and contents, I was able to graduate with a distinction, which was a great final achievement."
With the help of his supervisor Roman Kozhan, Professor of Finance, Francesco's dissertation examined whether investors care about the option-implied higher moments, namely skewness and kurtosis, which measure the asymmetry and tail shape of a probability distribution of returns. He investigated if the factors derived from these parameters yielded a statistically significant risk premium.
"The short answer based on my analysis is yes, especially during years of extreme liquidity shortage in the market," said Francesco. "Moreover, the dissertation was often cited as one of the reasons why I was selected for job interviews. The topic was very interesting and so I often received positive feedback.
"The research I conducted during my dissertation is now closely connected to the area I work in. The factor risk premia derived from the market skewness and kurtosis are connected to tail and event risk, therefore they are a very hot topic, especially in this period of black swan events like the financial crisis in 2008 and the COVID-19 pandemic. Analysing these factors to see if we can find a statistically significant relationship with real world returns can be very useful from an asset pricing and investment perspective.
"In my current job, I work in a team specialising in risk neutral valuation and calibration techniques, which is the methodology I used in estimating the higher moments, so it came in quite handy to already have some in-depth knowledge of these topics.
"My team and I work on the calibration of quantitative models that are used to generate economic scenarios, for pricing, investment and risk management applications. This is very exciting, as this role allows me to put into practice what I learned during my studies and to continue to improve my technical knowledge on these interesting subjects."
Francesco, who now lives in London, says the MSc Finance has proved invaluable in helping him stand out from the competition and start his career at one of the top firms in risk management and insurance.
He said: "The course is a must if you want to access specific industries in the financial sector that require high-level technical knowledge. The competition in the job market is usually quite intense and the barrier to entry is really high. For this reason, the MSc Finance has allowed me to specialise my knowledge on specific areas of interest, increased my job opportunities and accelerated my future career growth."
After graduating Francesco landed a six-month internship as an Equity Product Developer with German financial index provider Solactive in Frankfurt. He then secured interviews with several financial firms before joining Willis Towers Watson in October 2021.
"The knowledge I acquired during my MSc Finance has been essential throughout the interviews and the daily work," said Francesco. "The models that we use require a deep understanding of quantitative financial topics, which you can only study and appreciate properly in an academic context.
"In addition, the course was also extremely useful in terms of practical skills and projects. For instance, during my MSc I learned how to code in Matlab, which is now my bread and butter in my daily job.
"Overall, it was a great learning experience and the scholarship was extremely useful in helping me fulfil my career ambitions."