She who holds the purse strings
04 December 2014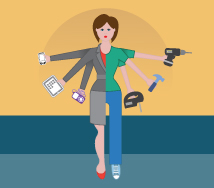 Archaic advertising methods are failing modern women, according to Kate Mew and Dr Tamara Ansons.
Images of skinny models or an outdated approach of 'shrink it and pink it' no longer apply in a contemporary world where more and more women have the financial clout in their household, that is the case argued by Dr Ansons of Warwick Business School in this article.
In fact, such idealised imagery of 'beautiful' women may have an entirely different outcome to that envisioned by marketers: putting women off the product in question, rather than encouraging them to buy it.
A huge bulk of women feel misunderstood by what is largely a male dominated creative sector. And, with women dominating more than 80 per cent of UK and US consumer purchases, going about advertising to females in the wrong fashion is a mistake that can no longer be ignored.
Read how marketing professionals are being urged to ditch old-fashioned gender stereotypes and kick clichés to the kerb in the full article available online now.
Alternatively, you can pick up your copy of Core and read this article and many more stimulating pieces today.