Sir Mark Moody-Stuart on corporate strategy
19 March 2015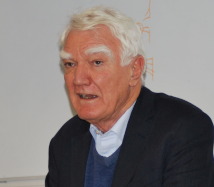 Former Royal Dutch Shell CEO Sir Mark Moody-Stuart told Executive MBA students how corporations need to meet NGOs and their critics face-to-face to forge an effective and responsible strategy.
Mr Moody-Stuart, now chairman of Hermes Equity Ownership Services - a firm which engages with companies on behalf of shareholders - and one of three foreigners on the board of Saudi Aramco, is renowned for his commitment to corporate social responsibility having worked in some of the most challenging countries in the world with Shell and as chairman of mining multinational Anglo American.
The 76 year-old has championed a wider responsibility for companies, especially with the local communities they operate in, building bridges between Shell and NGOs.
Talking to Executive MBAs doing the Strategic Advantage module Mr Moody-Stuart revealed how developing a corporate strategy had to involve voices from outside the organisation.
"It involves a lot of scenario work," said Mr Moody-Stuart, who was also a director at HSBC and management consultants Accenture. "But it also means engaging with people outside of the business, particularly people who disagree with what you are doing. Even if you think their views are stupid at first, you need to talk to them and you may find they are not so stupid after all.
"It is essential you talk to people other than those that work in or are part of the industry. The biggest danger is groupthink; it is very dangerous when everybody in the organisation and the industry are thinking the same. An example was at HSBC, when before the crash a group of shareholders said the balance sheet was inefficient and should be geared up in line with the competition. People in HSBC knew the banks were over-leveraged, but they thought one bank would fall and then the rest would fall back into line.
"HSBC decided not take the advice of the shareholders, but if it had gone on another three years without a crisis it would have been hard to have argued against more gearing."
Shell had to reappraise its principles after being hit by two controversies in 1995. First the Brent Spar platform was occupied by Greenpeace after public outrage that the company was going to dump the redundant oil storage in the Atlantic Ocean. That was followed by Shell being wrongly accused of collaborating with Nigeria's military rulers in the execution of writer Ken Saro-Wiwa, who had campaigned against the oil giant's drilling of his Ogoni homeland.
"We organised workshops around the world involving people inside and outside the company, including journalists," said Mr Moody-Stuart. "We had always maintained we were apolitical, but we were told that was impossible, we had a responsibility to express our views.
"From that we clarified our 'no bribes' policy, made a commitment to sustainable development, and drew up a statement on fundamental human rights for our workers and others in each country we operated in."
As CEO of Shell and chairman of Anglo American, Mr Moody-Stuart has overseen projects in many emerging and frontier markets and he has found that business can help a country improve living standards, but the government was also crucial.
"When Shell first moved into Oman it was basically a medieval country," said Mr Moody-Stuart. "But the sultan who later ruled the country was remarkably liberal and his approach along with money from oil operations transformed Oman's economy and its people. Whereas Nigeria had an autocratic and quite violent military Government who put their personal interests ahead of the country."
Mr Moody-Stuart - who described meeting Syria President Hafez Al-Assad, father of incumbent Bashar, as "dining with the devil" - does not believe sanctions are the right way to change a government's behaviour, arguing they harm private businesses while leaving those in power unaffected. Instead he feels companies should concentrate on a specific issue and campaign on that.
Shell's 'no-bribes' policy is a source of pride for Mr Moody-Staurt, who also revealed how discussing demands for payments openly in diplomatic occasions in London could have helped to lift pressure on Anglo American to pay $35 million to continue mining for nickel in Venezuela.
"We managed to put counter pressure on those asking for the money," said Mr Moody-Stuart. "That is something large corporations can do, smaller companies may have to group together to flag up any pressure they are under for 'political payments'. That is something you cannot do if you are paying bribes, so you should always say no.
"Stopping outgoing bribes is one thing, but stopping incoming bribes is very difficult. I remember when one of the employees in another company that I was on the board of handed in a 'present' they had received, which turned out to be $10,000 in cash – that was when I knew we were making progress."
Find out more about the Warwick Executive MBA and the new part-time Executive MBA at WBS London at The Shard. Corporate strategy is also taught on the MSc Marketing & Strategy course.