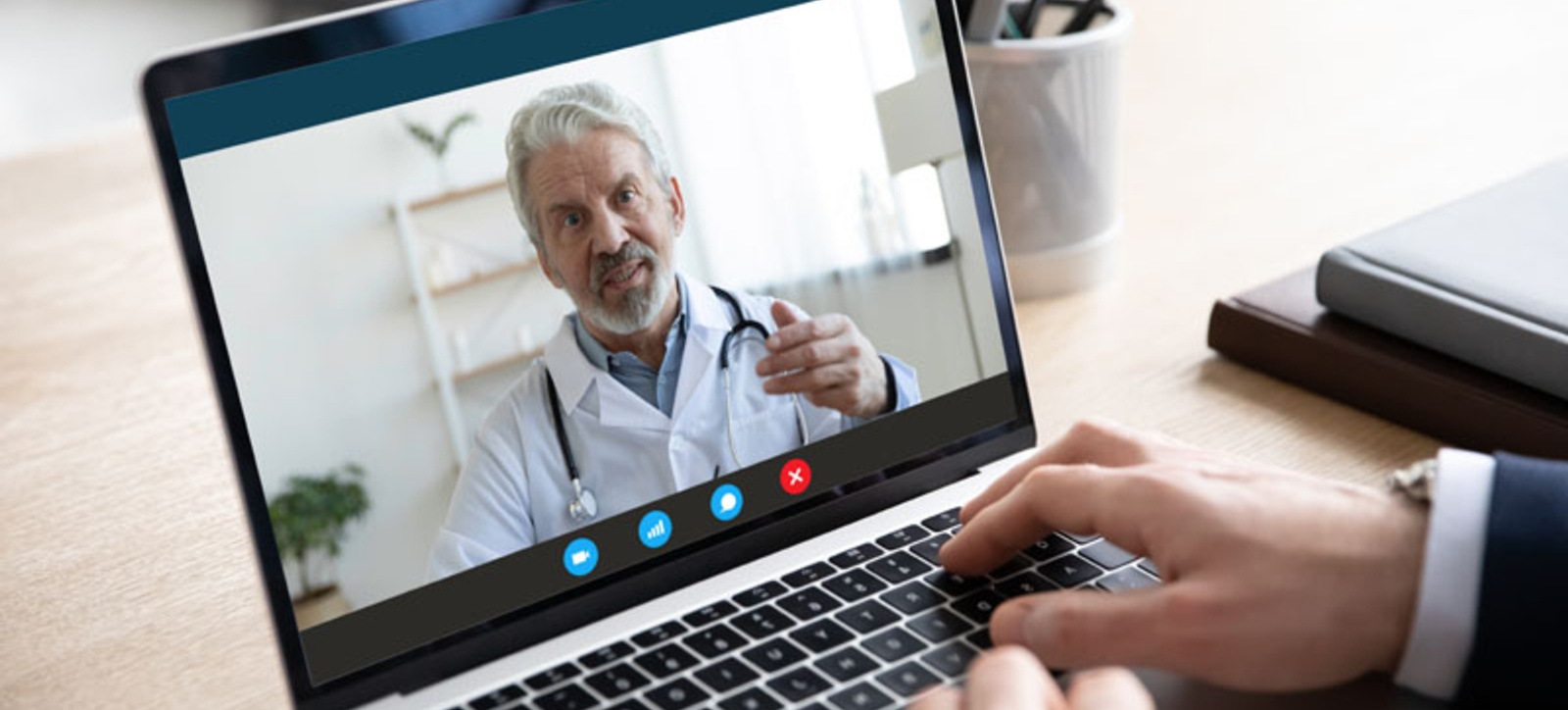 The pandemic has increased data sharing which could identify new ways to improve services
In January 2021 alone Nikki Kanani, Medical Director for Primary Care at NHS England, revealed in healthcare magazine Pulse that there had been more than two million online consultation requests and 155,000 video consultations, as well as a substantial increase in the use of electronic prescribing services.
Further, a survey by the Royal College of General Practitioners in the summer of 2020 revealed that 88 per cent of practices were set up to offer video or online consultations, compared with just five per cent at the start of the Coronavirus crisis.
The COVID-19 pandemic has accelerated the use of digital technologies and telemedicine (the use of remote audiovisual technology, instead of the traditional face-to-face interaction) at the frontline of healthcare.
These new digital technologies promise many benefits in the provision of healthcare services, not least a better patient experience and improved clinical outcomes. The challenge is implementing these technologies in a way that maximises the overall benefits in a manageable way.
There is a risk that, as the pandemic abates, momentum will be lost. The healthcare landscape is highly complex, involving multiple stakeholders across a diverse range of care settings. Too often this landscape is fragmented, creating barriers to the effective implementation of innovative technology and constraining the value it can create.
Joining up aims to make the care landscape a more integrated, harmonious service ecosystem is vital and focusing on three technological imperatives will help to achieve this. Indeed, to ensure that the healthcare profession consolidates and builds on the technology-driven gains already made there are six key areas that healthcare leaders should focus on.

1 Interoperability and business process transformation
The patchwork nature of health IT systems is a significant barrier to the integration of care. Legacy technology and incompatibility issues restrict the free flow of information.
Technology systems throughout the healthcare ecosystem, right down to the patient's own devices, should be able to connect, communicate, and exchange information with each other. Common application programming interfaces and standards are needed, with overarching governance architecture.
Interoperability cannot just be about the technology, though, it must also focus on the business processes that wrap around the services delivered via technology.
This means rethinking and redesigning processes to eliminate duplication and waste, and deal with problems arising from new technology-enabled ways of working.
If patients are given digital access to GPs, for example, processes must be put in place to manage that access without overwhelming GP capacity. At a practical level it might mean wrapping new processes around online consultations, such as triaging systems and virtual waiting rooms.
2 Diverse social contexts
Integration of care extends beyond technology systems to the technology users. It makes sense to accommodate a flexible approach, rather than one-size-fits-all, to account for diverse social contexts.
A variety of use cases and scenarios must be considered and from multiple perspectives, whether tech-savvy or tech-averse patients, clinicians or administrators.
This should facilitate networked interactions between multiple parties so that people can collaborate and co-ordinate across these systems, enabling and supporting different ways of working.
Behavioural science can play an important role through the power of 'nudging' to encourage desired behaviours. A simple example is sending text reminders to patients about upcoming appointments or online consultations.
3 Incentivise data sharing practices
One feature of the digital revolution in business is how leveraged data can create value for both consumers and service providers. Healthcare can learn from this.
The pandemic has been the catalyst for unprecedented levels of data sharing - through GP connect and summary care records, for example.
Data sharing can promote better decision-making and working methods, and identify new opportunities to improve services and generate value.
But this will mean shifting a protective attitude over data towards one where data permeates healthcare. Backed by robust governance and security safeguards that create the confidence necessary for data sharing, policymakers should incentivise a culture of productive data sharing practices and behaviours.
Joining up will not happen without the right leadership approach. Care provision is often characterised by strong institutional forces that can act as a barrier to information sharing, collaboration and innovation.
The pandemic has blurred hierarchies and loosened the institutional shackles. Collective action to tackle the pandemic has led to more distributed and open ways of working together - a shared leadership model in which people throughout healthcare provision are more able to make their voice heard.
Focusing on three areas of this 'together working' approach can help to continue leveraging shared leadership for improved service delivery.
4 Multiple service options
The omnichannel concept is well-known in the service economy. The idea is to provide different routes to access the same high quality service, depending on a user's preference.
In the past, fragmentation, both in terms of technology and institutional hierarchies, has proved an obstacle to adopting an omnichannel approach in healthcare. Dealing with the pandemic, including the need to minimise infection rates, has eroded those barriers.
Moving forward, the benefits obtainable in terms of a better user experience are too great to give up. hared leadership, with health professionals collaborating across care settings, will be key to building effective omnichannel service delivery and capturing those benefits.
In terms of primary care, for example, it will allow patients with different life circumstances and needs - from young mothers to the frail elderly - to access a consultation in a way which they find convenient, whether face-to-face, using a landline, online or via video.
There are also advantages for service providers, not least the potential to improve their work-life balance through remote working.
5 Walking the user journey to ensure service inclusion
Technology changes the way services are delivered. This can lead to unintended consequences, such as the exclusion of certain users from accessing services.
And indeed, there is a risk of creating a digital divide in healthcare. Some patients may not own or be comfortable using new digital technologies.
A visually impaired person may have a very different user experience and associated challenges to a patient with learning difficulties.
Healthcare leaders need to experience and understand the care journey from the user's perspective. At the same time shared leadership allows input from a broad range of perspectives, including service users, in order to build a service that works well for everyone.
6 Developing an agile mindset
Innovative thinking has been invaluable in developing an effective healthcare response to the pandemic. The battle against Coronavirus has shown us that healthcare can be delivered in ways that might not have seemed possible prior to the crisis.
The agile mindset that has helped stakeholders adapt and improvise, using technology to solve problems as the COVID--19 situation evolved, is integral to working together.
This agile mindset will enable healthcare stakeholders to maximise the value of new technologies in the future. More immediately it should be instrumental in finding innovative ways to deploy technology to catch-up with the substantial NHS backlog of work that threatens proper provision of healthcare in the short to medium-term.
Agility is also important for monitoring 'catch-up work' in a way that reinforces safety, while not reducing innovation.
As with most major organisational transformations there are a number of potential barriers to progress. One is a disproportionate fixation on the technology rather than the people and processes using the technology.
Another is a reluctance to discard outdated systems, both technology – which produces security vulnerabilities – and business processes.
A third barrier is a stubborn persistence of decision making based on power hierarchies rather than perspective taking.
Focusing on joining up and working together, and the six elements within them, will help overcome these barriers and retain the momentum gained during the pandemic in applying innovative digital technologies in the healthcare domain.
In doing so it will be possible to tap into the collective creativity of everyone involved in providing healthcare services, accommodating a range of perspectives, and embracing openness and dialogue.
In turn this will allow the delivery of better healthcare in a more flexible and cost-effective manner, creating the modern healthcare service we deserve.
Further reading:
Oborn, E., Barrett, M. I. and Barrett, D. A. S. (2020) "Beware of the pendulum swing : how leaders can sustain rapid technology innovation beyond the COVID-19 crisis", BMJ Leader.
Eivor Oborn is Professor of Healthcare Management and lectures on Strategic Leadership for the Healthcare Industry on the Executive MBA (London). She also teaches Problem-solving in Organisations on the Undergraduate programme.
For more articles on Healthcare sign up to Core Insights here.