Star students at Warwick Business School
25 March 2013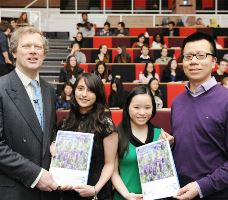 From undergraduates through to MBAs, talented and energetic students at Warwick Business School have been winning prizes and plaudits, both in and beyond the classroom.
Association of Corporate Treasurers award top Finance performers
The Association of Corporate Treasurers (ACT) generously supports academic excellence among students on the WBS Undergraduate Programme by giving prizes for top performance in the modules Finance 1 and Finance 2. Dr Chendi Zhang, who teaches these modules, recently welcomed to campus James Lockyer, the ACT's Director of Development, who presented a cheque and certificate to winning students, followed by a guest lecture.
Lewis Tan - Best performer for Finance 1: Financial Markets
Klara Kan - Best performer for Finance 2: Corporate Finance
Shalani Ravishanker - Best performer for Finance 1 & Finance 2 (based on total marks).
The ACT has recently signed a Memorandum of Understanding with WBS to facilitate collaboration and promote the treasury profession to finance professionals early in their career.
Solvay Business Game
Last month a group of WBS undergraduate students headed to Brussels to participate in Europe's largest on-stage business game: The Solvay Business Game. Over two days, teams from all over Europe battled it out by putting their skills to the test in five different challenges.
From over 2,000 applicants, only 194 teams competed. Natasha Dudas and Thora von der Decken were the highest placed Warwick team, finishing 21st overall. In the individual challenges, they came 4th in the BDO Negotiation Challenge, while Xavier Keung and Carl Oskar Thoen came 6th in the McKinsey & Co Pitch Challenge.
Natasha Dudas comments, "All the WBS students who participated in this year's competition thoroughly enjoyed their time in Brussels, learnt a lot about working in diverse teams, and discovered what true pressure feels like!"
IBM Student Recognition Awards
Each year, IBM recognises exceptionally talented students from selected universities. Earlier this month, an evening of celebration at Warwick Arts Centre was enjoyed by a small number of high-performing students who had been nominated by faculty who teach modules of particular interest to IBM. The students each receive IBM certificates of excellence and vouchers for performances at Warwick Arts Centre.
WBS Principal Teaching Fellow Dr Andrew Martin nominated James Turner (final year MMORSE), and Natalia Poskrebysheva (MSc Business Analytics & Consulting) for their performance in the module Spreadsheet Modelling, and Sophie Christensen and Adam Laughton (both 2nd year Computing & Business Studies) for their performance in the Managing IT Solutions Architecture module.
Firefly Project
Masters in Management student Rupen Humad recently entered Project Firefly's Emerging Leaders Essay Competition, sponsored by Credit Suisse. His essay, Will the proposed reforms in India's financial, energy and retail sectors really make a difference? Is this 1991 all over again? won the accolade of being published on the competition's website.
Dean of WBS Professor Mark Taylor commented, "Congratulations to all our talented and hard-working students who find time to partake in these beneficial and career-building events and competitions, while maintaining their high level of commitment to their degree studies."