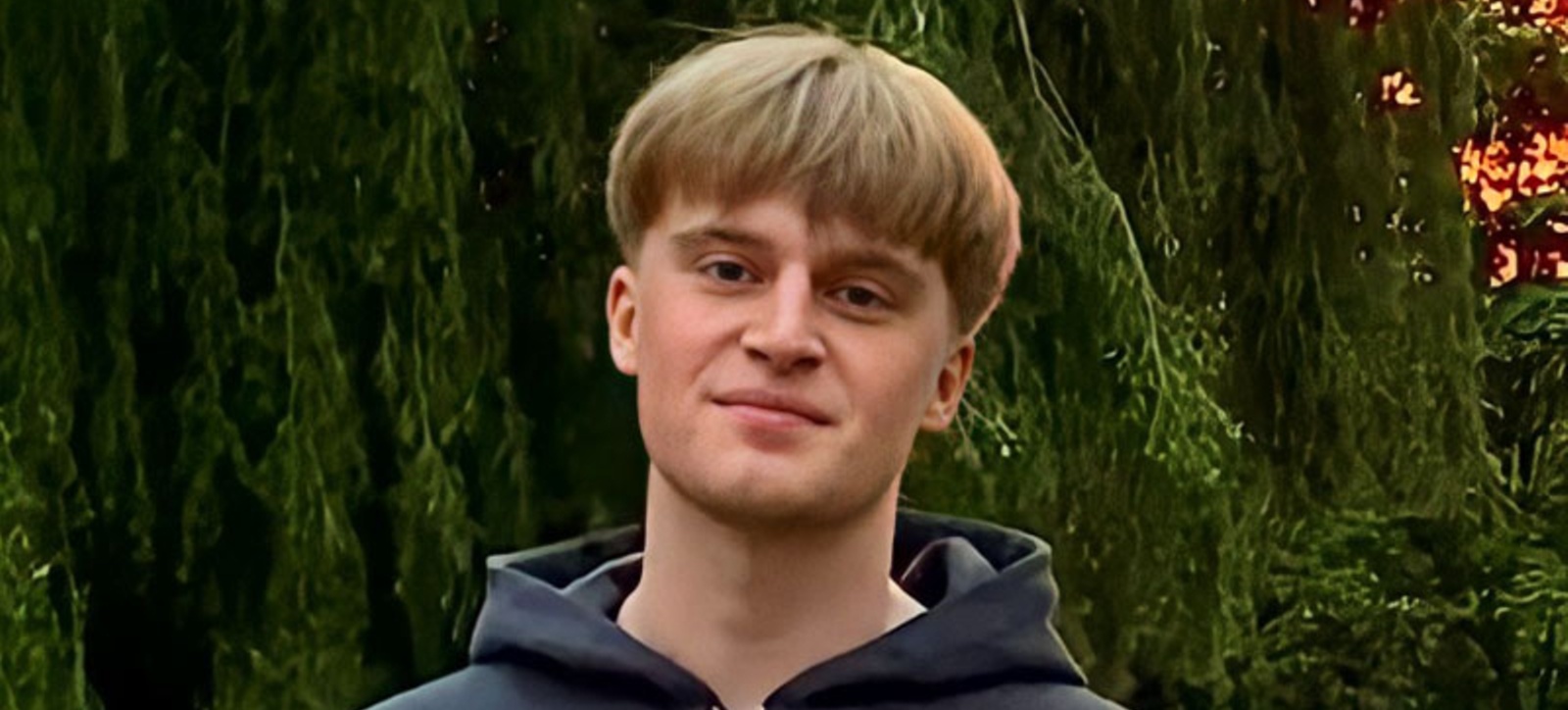 Alexei Hamblin started designing clothes as a hobby at 15
A £9,000 scholarship from WBS has helped him launch his own brand
The BSc International management student is designing sustainable clothing
He receives one-to-one mentoring and extra lessons on entrepreneurship
An undergraduate has turned his clothes-designing hobby into a business thanks to a scholarship from Warwick Business School.
Alexei Hamblin (pictured) has been drawing and designing his own street fashion brand since he was 15, but it is now a reality after winning a WBS Young Entrepreneurs Scholarship.
It saw Alexei's fees for his BSc International Management paid for by a bursary and the teenage designer handed £3,000 each year of his course to get his River God urban wear label launched alongside a one-to-one mentoring programme.
"The scholarship has genuinely completely changed my outlook and opened up a wealth of opportunities," said Alexei, who went to Cherwell School Academy in Oxford, the same school that produced James Lavelle and Tim Goldsworthy - the founders of hugely influential trip-hop record label Mo'Wax.
"I have been taught how to incorporate a company, intellectual property, and it has given me the ability to apply for a substantial loan to invest in the label and manufacture products at designer level. The mentoring is amazing and the opportunities keep coming – I want to show it was worthwhile giving me the scholarship."
Alexei works closely with Simon Barnes, Professor of Practice in the Entrepreneurship & Innovation Group and a Venture Capitalist, who founded the scholarship programme to give students from under-represented backgrounds the chance to realise their dream of building their own start-up.
"The idea is to help students start businesses without worrying about student debt," said Professor Barnes. "It came from the simple observation that it is easier for young entrepreneurs to start businesses when they are already wealthy. We can't make them wealthy, but we can remove the burden of debt.
"It is a unique programme and Alexei is only the second student to win a scholarship. He is a very talented fashion designer, and not only is his label gaining a following, but he is now being invited to produce designs by big brands."
During lockdown Alexei decided to offer himself as a freelance designer at emerging street labels, which eventually saw his designs on the pages of GQ magazine.
It gave him the money to start his own label with a sustainable theme. He is using organic cotton and as an antidote to the waste and environmental damage of fast fashion Alexei's clothes extol the virtues of 'slow fashion'.
"I have produced hoodies with our 'Switch-Patches', so instead of buying a new hoodie each season people can simply change the patches – as they are stuck on with Velcro – and keep wearing the hoodie to extend their lives," said Alexei.
"For the launch I hired a nightclub in Oxford and had a huge party with 300 people. Since then I have been using social media influencers to market the clothes alongside Facebook and Instagram campaigns.
"I also hosted a pop-up store at BOXPARK in Shoreditch for a week, showcasing my products and that worked really well."
With T-shirts retailing for £70, sweatshirts £120, and hoodies for £135, Alexei is producing high quality sustainable clothing and is looking to build a captive fanbase along the lines of New York skater brand Supreme.
"They spent so long building a fanbase, so when Supreme release anything it sells out it seconds," said Alexei. "The barrier to entry there is having enough capital to put into marketing to rapidly build demand.
"I see myself as an entrepreneur rather than a fashion designer. My design ability is just enough to break into the market, but at some point I would like to hire designers, so I thought it was more important to learn about the business principles – that's why I came to Warwick."
Alexei's rapid rise has meant he has had to learn about the fashion industry quickly and is using the same Turkish manufacturers that produce clothes for Lacoste and Vivienne Westwood.
"I have no education in design, I have picked it up as I have been going along," said Alexei. "The guys in Turkey have really helped with the technical terms, drawings and product development.
"It has been a great journey, but now I have the backing of a renowned business school it has given me a lot more confidence and credibility plus the expertise to help guide me and keep growing the brand."