Students awarded for stellar module scores at UBS event
29 November 2016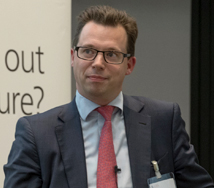 WBS students win a host of prizes from UBS
Students awarded for best performance in Financial Management modules
Event marks ninth year of UBS sponsorship
WBS alumni also delivered a talk on the emergence of the Chinese Dragon
WBS students have been awarded prizes by UBS for exceptional performance in their Financial Management modules.
This is now the ninth year the global investment bank has supported this event and provided students with useful insights into investment banking.
For the Foundations of Financial Management module, Javina Houri and Tamo Koniashvili shared first prize. Hortense Morillion came third, while Jayant Singh was fourth.
Tamo, a second-year Georgian student studying International Business, said: "I am greatly honoured to have won this prize - it gives me a great sense of pride to have achieved such a feat.
"Studying 'Foundations of Financial Management' last year was a truly rewarding experience. The module was interesting, useful and applicable to the real world of Finance."
In the Financial Management module, Pei-Ying Cheok took first place. Ramanand Gunasekgerin and Nicholas Tan were joint second, while Wanjing Lee and Vicknesh Rajkumar came joint fourth.
"I am really happy to have won this prize as I feel that my hard work has paid off," said Pei Ying, 19, of Malaysia.
"For me, this was one of the toughest modules as I had not studied Finance before coming to university. I am really grateful for my lecturer's guidance, especially in the seminars where explanations were more detailed."
The teaching from the WBS academics on the two modules came in for a lot of praise from the winning students.
Nicholas, 21, a second-year Accounting and Finance student from Malaysia, added: "I would like to thank the lecturer for delivering an interesting module."
Ramanand, also 21, from Malaysia and in the second year of his Accounting and Finance degree, added: "I could not have achieved this result without the high-quality teaching on this module. The systematic and organised style of teaching style ensured that the syllabus was accessible to students. The seminars reinforced my understanding and the past papers exposed me to authentic exam questions. The examples involving from the day-to-day news made this module much more relevant."
The prize-giving was followed by a guest lecture by WBS alumnus, Tobias Wagnert, Managing Director of UBS Investment Banking, on 'the art of buying and selling companies and the emergence of the Chinese Dragon'.
"We are here because we want to recruit the top talent and, as an alumnus, I'm very proud of Warwick; last year, we offered a number of internships to Warwick students and last season we hired more students from Warwick than any other university in Europe firm-wide and we look forward to seeing them progress," said Tobias.
Tobias also told students investment banking is all about people.
Tobias said: "Working across cultures and continents is one of the most rewarding things I've done in my career.It is important to be innovative and creative, given the circumstances around you. Of course, the only way you can do that is by gaining a lot of experience. You can leverage that experience to provide your clients with the very best possible advice; nothing beats celebrating after sealing a hard-won deal!"
With China becoming an increasingly important player in the world of mergers and acquisitions, Tobias shed some light on big deals involving Chinese firms on which he has worked.
Tobias said: "Asia is a growing market, it is becoming more important. In the past, the growth story was Asia itself, but now as that growth has slowed, Asian investors have started looking outside Asia."
One of the prize-winners, Javina Houri, praised Tobias's talk: "Drawing on his wealth of experience, Tobias gave us an insight into the fascinating art of mergers and acquisitions in the field of investment banking. His talk addressed topics such as the skill and intensity of securing big deals, how to excite investors and the explosion in wealth in Asian economies."
The evening was rounded off with an informal drinks reception.
Professor Peter Corvi, Financial Management module leader, said: "Now in its ninth year, the UBS event is firmly established within the WBS UG Programme calendar. We in WBS are extremely grateful to UBS for continuing to sponsor prizes for some of our best-performing students, deliver a guest lecture and offer our students the opportunity to network with representatives of UBS.
"Tobias' presentation was full of rich insights into the world of M&A, and the growing importance of Chinese investors, which explains why I spent most of it scribbling down what he was saying! Well, it's not every day that I get to listen to a WBS alumnus who is now a Managing Director in one of the world's largest investment banks. I can't wait for the 10th anniversary event next year!"
Dr Olga Klein, Foundations of Financial Management module leader, added: "It was fantastic to have Tobias deliver such an insightful talk on M&A and the emergence of Chinese companies and investors as the lead acquirers of companies in Europe. We were all very privileged to have the opportunity to listen to him."
Professor John Rudd, Associate Dean of the WBS Undergraduate Programme, added: "This annual event continues to help recognise and inspire WBS students who have achieved some truly outstanding results.
"The prize-winners should all be extremely proud of their achievements, and it's great that we can formally recognise these at such an appropriate and exciting event."
The modules are part of the BSc Accounting & Finance, BSc International Business, BSc International Management and BSc Management courses at WBS.