Students complete Warwick Venture internships
11 November 2015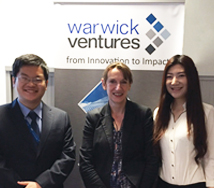 Two postgraduate students from China have completed internships with Warwick Ventures, working alongside Business Development Manager Melody Stokes.
The experience has supported Zhengzhi Guan and Yating Zhou ('Alice') to develop their research topics in technology transfer as part of their MSc Marketing & Strategy course with Warwick Business School.
Guan has been exploring the impact of research at the University's Physics department and supporting workshops in skills development for researchers at an early stage of their careers.
His in-depth review of Physics research case studies has revealed the importance of developing commercial impact, leading to more jobs and expanding the UK economy.
The early-stage researchers confirm that this is an area where their knowledge is weakest. Guan's work has provided a good foundation on which Warwick Ventures will continue to build.
Alice has been working with the Physics spin-out Q-Eye, who developed a highly sensitive GHz-THz sensor, an initiative new type of sensor reportedly faster than competing technologies at detecting and identifying hidden objects.
Such a device could help address weaknesses in America's airport security for example, where a report in July 2015 revealed mock weapons and explosives were smuggled through airports undetected in a staggering 95 per cent of cases.
She has supported Professors Whall and Parker, Q-Eye's founders, in exploring routes to market and developed a marketing strategy, using novel approaches for widest impact. Her research has been exploring the issues around commercialising high-tech devices.
Oliver Walmsley, Director of Marketing and Corporate Relations at WBS, said: "A consultancy project is the ideal way for a student to gain targeted work on a business issue and to utilise the latest theories in practice.
"The project also provides the opportunity for a potential employer to test a candidate's suitability for a permanent position. Guan and Alice have supported new approaches for Warwick Ventures' activities in commercial impact and technology transfer meaning that both the project sponsor and the students have received mutual benefit."
Guan and Alice have now provided their final presentations to the Warwick Ventures team.
Guan will undertake PhD research into digital technologies and markets while Alice will return to China to work in a marketing role.
Their experience over the summer, working with Warwick Ventures business development managers, has helped broaden their understanding of technology transfer.
Warwick Ventures provides internships for students, graduates and staff at the University, lasting from a few days to several months.
The experience covers immersion in identifying and appraising novel concepts, protecting the IP, market research, development of support systems, commercial negotiations for licensing, creating spin-outs and start-ups as well as raising investment.
In the past year alone, Warwick Ventures has supported ten internships as well as helping educate a new generation of entrepreneurs.
Read more about Warwick Ventures on its homepage.