Students' cultural cookbook reaches out to refugees
18 December 2018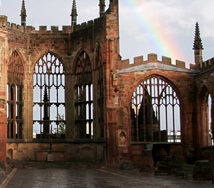 Recipes from different cultures in Coventry bring community together
Coventry Cultural Cookbook includes raises money for refugee centre
City of Culture Service Project helps WBS students reach out to refugees
Santander grant will see project for Foundation Year students return in 2019
A team of Warwick Business school students have won an award for creating a cultural cookery and colouring book to raise money for refugees.
The five Foundation Year students designed the cookbook to celebrate Coventry's diversity and bring different communities together after it was named City of Culture for 2021.
It was part of the City of Culture Service Project run by Warwick Business School to encourage 20 students on its Foundation Year programme to find ways to reach out to refugees and celebrate Coventry's diverse culture.
The project was funded through a £5,000 grant from Santander.
Grace Clarke, who came up with the winning idea, said: "We were delighted with what we achieved in such a short space of time. For me it wasn't really about winning, it was about aiding the refugees and promoting Coventry's diverse culture."
Team leader, Grace, and her fellow team members, Imran Hussain, Torr James, Ruben Basra and Taiyla Jules, created the cookbook in just six weeks.
They contacted community groups across the city to ask for personal recipes that reflected their cultural heritage and asked schoolchildren to design colouring patterns to include in the book.
The book aims to feed the body and the soul with recipes from countries including Italy and Sudan alongside pages for the reader to colour in to promote mindfulness.
The team then printed 1,000 copies of the cookbook to reach a wide audience and maximise their positive impact. Instead of setting a price, they asked for a voluntary donation to The Coventry Refugee and Migrant Centre.
Grace said: "I was inspired by stories of the refugees' traumatic journeys to Britain. Colouring has become a massive mindfulness aid to help people deal with anxiety and depression.
"I thought colouring might help them settle into life in a new country more easily."
The book beat competition from three rival projects to win the £1,000 prize.
One team organised a football tournament, the InterGreat Cup, between students and refugees, one held an art exhibition for refugees and Warwick University Students, the third organised a Culture Boosters competition that 32 primary and secondary schools in Coventry and Warwickshire entered.
The cookbook was one of four initiatives by teams of Foundation Year students at Warwick Business School as part its City of Culture Service Project, sponsored by Santander.
The Foundation Year course help students to build their business knowledge and learn key skills that will help succeed once they begin their degree.
It aims to widen access, particularly among students from disadvantaged backgrounds who face greater barriers to higher education, by helping them gain the skills and experience they need.
Dr Tamara Friedrich, course director for the Foundation Year programme who led the project, said: "Words can't express how proud I am of all the students.
"They found creative ways to promote cross-cultural awareness and help refugees in Coventry, which will have a lasting impact in the community.
"It was clear the students had learned some hard truths about the practicalities of organising events, managing budgets, and engaging with stakeholders.
"I think this project also helped to embed our students into Coventry more. They built important relationships and showed them what Coventry has to offer."
The project will run for Foundation Year students at Warwick Business School during 2019 thanks to a further grant from Santander.