Students devise start-ups to save the planet
22 October 2015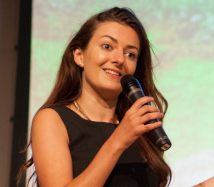 What did you do during the summer holidays? This is pretty much the first question on every student's lips when they return to university.
Not many - aside from Clark Kent - will answer: I tried to save the planet. In her small but significant way that is exactly what Rebecca Goldsack-Smith did.
The 24-year-old took part in Europe's largest summer school devoted to devising start-ups dedicated to tackling global greenhouse gas emissions.
Backed by the European Union, the Climate Knowledge and Innovation Communities (Climate-KIC) is looking to educate and inspire students to produce innovative start-ups that not only confront the climate change problem but will promote a low carbon economy.
With the world's leaders set to gather in Paris in December for the United Nations Climate Change Conference with the aim of agreeing a binding and universal agreement to reduce greenhouse gas emissions, there is a desperate need for new innovative businesses to tackle the problem of global warming.
"This is the most pressing issue our world is facing," said Miss Goldsack-Smith. "When I found out about the summer school I was keen to get involved to see what I could do. It has been an amazing journey, I have met and made friends with people from all over the world, and learnt so much – it has been an inspiration."
Miss Goldsack-Smith was one of 45 students who took part in one of the many Climate-KIC Summer Schools held across Europe. Over five weeks Masters or PhD students visit three countries, learning from top academics and researchers – including Warwick Business School's Global Energy Research Network - about climate change and how to create a start-up, culminating in pitching a business idea.
The pitch from Miss Goldsack-Smith and her team Perair centred on Indonesia, surprisingly the third biggest emitter of greenhouse gas in the world after the US and China. The reason for this is because of its peatland, or to be precise, the destruction of its peatland for farming and the production of palm oil.
Peat is a natural carbon sink, so when it is drained or suffers deforestation, huge quantities of carbon are released into the atmosphere. The fires to clear the forest can go on for weeks, even months, sending a haze of smoke across south east Asia.
"Not many people realise that 11 per cent of greenhouse gases come from peatland degradation," said Miss Goldsack-Smith, a PhD student from Imperial College, whose research is on the carbon market of the indigenous people in Indonesia. "And most of that comes from Indonesia, it is a real problem.
"But it is difficult to stop the local people from doing this to the peatland as it is their livelihoods; the local economy is built on draining and clearing out this land.
"So we have devised small floating platforms that can be used on the peat bogs for water-based farming. This can produce many crops like herbs and spices like saffron to give the farmers a new business model that does not disturb the peat, so the carbon can stay in the ground."
The pitch saw Miss Goldsack-Smith's team win the Best Idea award and now she is part of the Climate-KIC alumni network she will have support to develop her idea.
Michael Kramer's team Marcy won Best Business Plan for their disaster relief cube. Packed with water purification equipment, mobile network apparatus, a radio to a doctor, first aid kit and a solar-powered battery, the cube would be dropped by helicopter to areas cut off after a disaster like the recent earthquake in Tibet.
"One cube would serve 500 people for a month," said Mr Kramer, 29, an industrial engineer PhD student at the Technical University of Munich. "Global warming is bringing more extreme weather events that cause a great deal of destruction, so this, we feel, could be very useful. It has been a very enjoyable five weeks, I hope to keep in contact with the many people I have met and perhaps we can take this idea forward."
Frederik Dahlmann, Assistant Professor of Global Energy, who organised the two weeks at the University of Warwick, said: "It is great to be involved with Climate-KIC on tackling such a hugely important but very complex issue. If we are to meet the world's energy needs while reducing our carbon footprint we need to inspire the next generation of innovators and entrepreneurs to tackle this issue.
"Rising temperatures and depleting resources, coupled with increasing demand for energy presents a huge global problem and Climate-KIC's work to educate and provide the people and talent to address these issues is hugely important.
"Warwick Business School believes in entrepreneurship and creativity, in doing things differently, and that is why we have decided to take part this programme.
"We hope to give these passionate and committed students the tools to literally change the world for the better."
Winners at the Climate-KIC Summer School:
Best Idea
Perair: Rebecca Goldsack-Smith, Elvira Bozileva, Marc Jaxa-Rozen, Fernando Casillas Bernal, Carina Dannemand Sorensen, Jonas Van Bockhaven
Perair aims to produce a biodegradable mat from waste in palm oil production to act as a floating substrate for growth of plants. This reduces the need to drain peats and allows the use of waste products in a sustainable manner.
Best Presentation
Solar Breeze: Juli Edyta Sikorska, Eleanor Murtagh, Javier Munoz, Patrycja Graczyk, Sylene Lasfargues.
An eco-friendly and quiet self-made and off-grid "air cooling" system priced competitively for the Indian market initially.
Best Business Plan
Marcy: Michael Kramer, Akhila Jambagi, Raul Potisepp, Christoph Waibel, Yu Jiang Jiang
Helpcube that can be deployed in remote areas where disasters have occurred. Powered by solar, with a battery module, it provides water purification, communications and medical help.
Audience Award
Green Coin: Krishnakumar Gopalakrishnan, Amr Madbouly, Abhijit Malankar, Sabina Assan, Abdelhadi El Yazidi
An innovative system where your computer is linked to the lights in your part of an office, when turning off the PC, the lights automatically turn off.
Frederik Dahlmann teaches Business, Policy & Regulation in the GEI and Sustainability and the Low Carbon Economy on the Global Energy MBA. On the full-time MBA he also teaches Sustainability and Business Ethics.