Students given taste of WBS life in India and Dubai
15 June 2015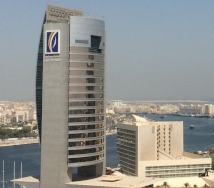 Students looking to do a Masters at Warwick Business School have been given a free one-day course in India and Dubai giving them tips on studying and working in the UK, career support and communication skills.
The Pre-Masters Course, designed by WBS CareersPlus, gave prospective students workshops and exercises designed to help them prepare for studying in the UK.
Applicants to Masters and MBA courses at WBS were invited to learn more about working in teams on a business case study, thinking about their career paths and how to make the most of the opportunities they will have as students.
At the course held in at the Batra World Institute in Gurgaon Shreya Minocha, an applicant joining the MSc Finance course at WBS, said: "Thank you for the incredible Pre-Masters Course. It was very informative, very constructive, and helped me figure out a lot that I need to work on.
"I really appreciate the effort put in by WBS to help students like me who haven't had a real taste of the competitive corporate world. We were made to feel very comfortable and indeed a part of the WBS family.
"It shouldn't be too hard for anyone to adapt to studying in the UK when they've got WBS to reach out to. I look forward to arriving at WBS in September."
Applicants were also offered the opportunity to meet alumni of WBS and the University of Warwick at each city, as they assembled to celebrate the University's 50th Anniversary.
Sue Thorn, head of WBS CareersPlus, said: "A Masters at WBS is a challenging and intensive environment. We want to give our students the best possible chance of reaching their potential when they are here and finding the career they dream of.
"After positive feedback from a pilot course last year we found that students really valued these workshops in helping them prepare and get the best out of their time at WBS.
"It is all part of our ambition to produce world-class, socially responsible and creative business leaders, who think on a global scale.
"The workshops taught the applicants about life at WBS and the key behaviours for success in their studies. They also learnt about the benefits of team diversity and how you can use this experience to launch your career globally.
"We are incredibly grateful to the Batra Group for their continued and generous support, and for allowing us use of the first-class facilities at the Batra World Institute in Gurgaon."
Find out more about the postgraduate and MBA courses at WBS.