Students hear how Richard Hull turned Sally around
17 April 2014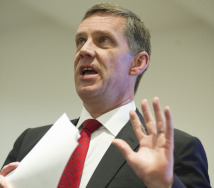 Richard Hull, Managing Director of Sally Beauty Holdings (SBH), revealed to students at Warwick Business School that he looked at four critical areas when developing his five-year plan to turn around the fortunes of Sally Beauty Holdings' UK and Ireland operation.
Despite being part of a worldwide organisation that was valued at $8 billion (£4.8 billion) on the New York Stock Exchange, and with annual revenues of $6.3 billion (£3.79 billion), the UK and Ireland arm's performance was poor when Mr Hull took over in 2009.
After reviewing the UK and Ireland operation Mr Hull, who has had extensive retail experience at companies such as Alliance Boots and Tesco before joining SBH, an international retailer and distributor of beauty products, identified four areas that needed addressing.
Talking to WBS MSc Marketing & Strategy students, Mr Hull said: "The key things I looked at were the people, the brand, the marketing and the range of products available.
"The business lacked clear vision, the staff were demotivated, our brand was dated, and we did little in the way of marketing. I spent 20 days across our stores and I remember one customer looking at me and saying 'this is an Aladdin's cave of confusion'. I couldn't have put it better.
"There is no book to guide you; you can only run on your core business principles and an evolving plan. Every year I had to adapt this plan.
"Lose sight of your customers at your peril. Common sense is key, we all make mistakes and I have made quite a few, but you have to learn from, and relish them - they are your beacons of learning."
Mr Hull produced a new vision and mission as the bedrock of his plan, and to cement this at the heart of the company he brought together 40 staff from across the organisation to design its core values. The result? Personal, ambitious, passionate, expert and professional.
"At every board meeting or when I visit a store, I ask 'have we met these values?' The hard bit is getting the company to live and believe in these values rather than just having them on the wall," said Mr Hull.
"We wanted to be an absolute authority on the professional hair and beauty market with a strong offering for our customers. Our mission was to be a £250 million business with 10 per cent profit in five years."
For his 1,800 staff, Mr Hull invested in training, revamped SBH's shops and created two new websites for the newly branded trade and retail operations, Salon Services and Sally.
"Our shops were functional, you could have hung power tools off our shelving and it wouldn't have looked amiss, but there was little consideration for design and appeal," said Mr Hull.
"Our people were passionate ambassadors for our brand, but little money was spent on training when I joined. So I made investing in training a priority and introduced initiatives like the Hair and Beauty Academy to ensure that staff could provide the very best service."
Mr Hull said a game-changing moment came when the lease on their London Shaftesbury Avenue store ran out and they relocated to 78 New Oxford Street, a two-storey building that has become a flagship store, housing both the Sally and Salon Services brands.
"It is in a prime London location and offers an innovative layout with a ground floor dedicated to retail, trade in the basement, and a mezzanine with hair and beauty electrical goods that can be handled before purchase," said Mr Hull. "We have seen a significant improvement in trade and we're looking to replicate its success at another store in central London, plus a further eight stores across the UK. When I showed the US team the new format store, they loved it."
To enhance the new Sally retail brand Mr Hull took it to its customers. He set up Refresh at T in the Park in Scotland, offering festival-goers a hair wash and pamper stations at a minimal price.
"It was a huge success and we had the biggest brand change ever," said Mr Hull. "We were covered by BBC TV, and our staff loved it. We are planning to provide this service to six festivals this year."
With 45,000 Facebook fans and 10,000 Twitter followers SBH's brands can have instant feedback on new products and brands. While Sally launched its first Christmas product; selling 1.3 million in three weeks, and last Christmas it was 2.7 million in four weeks. It now has its own label as well, which now contributes to 32 per cent of turnover with margins of 70 per cent.
"I think we have only just started," said Mr Hull. "I think we can do more and it will be exciting to see how far we can go."