Students learn about code breaking at Bletchley Park
18 November 2016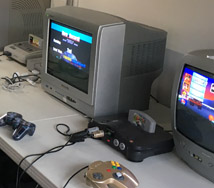 WBS students visit Bletchley Park as part of core module on their course
Trip was for MSc Information Systems Management and Innovation students
They learned about code breaking and how technology shapes the world
Trip helped students focus on 'today's challenges in IS management'
Code breaking and retro video games from the 80s all played their part as Masters students from Warwick Business School visited Bletchley Park.
Joao Baptista, Associate Professor of Information Systems, believes this is integral to his core module, Digital Business and Workplace Technologies taught on the MSc Information Systems Management and Innovation course, a key theme of which is looking at how technology shapes organisations and the world we live in.
Students were taken back in time to explore the race to create the ultimate code-breaking machine during the last World War.
Afterwards, they visited The National Museum of Computing and heard about the likes of Alan Turing – recently documented in the Hollywood film The Imitation Game, starring Benedict Cumberbatch – and Tommy Flowers inventors of these first machines and computers.
A journey through time then followed looking at first generation business computers to modern personal mobile devices.
Dr Baptista said: "This trip shows vividly why and how technology is shaping our world and highlights the early heroes of our modern digital life.
"The parallels with Bill Gates and Steve Jobs in how they engaged and used technology to address world and business problems were immediately apparent to the students.
"This gives students a unique insight into the evolution of computing through today, and is a valuable complement to the material covered in our programme on digital innovation."
Some of the highlights of the trip were seeing a working version of the World's First Working Computer, the WITCH, to more recent but still unbelievably sizeable technologies such as a 30Kg heavy, one-metre-wide disk from 1964 that holds only 12Mb of memory, enough for a picture of a cat and a song track.
Alisa Zayasenko, one of the students who took part in the trip, felt the day out was far more than just a museum visit.
"Bletchley Park's property is enormous and there are numerous buildings, installations and even sounds that bring the atmosphere to life," said Alisa.
"We were not only able to learn more about what happened there during World War II, but also gained invaluable insights into the evolution of computing. The latter was particularly relevant for our course, as we can now better understand today's challenges in IS management."
The MSc Information Systems Management and Innovation programme attracts students from around the world. The course involves exploring technology as an integral part of the management of global organisations and many graduates from this course will go into management or IT consultancy.
Dr Paolo Spagnoletti who is a Teaching Fellow of Warwick and Professor at LUISS Business School also teaches in this module and said that Bletchley Park brings to life the material covered, for example, the history of computing and information systems security.
Swabra Mutwafy who also went on the trip, added: "I was in awe when I learnt that women during World War II were key contributors in the infamous code breaking at Bletchley Park.
"They recorded broken German radio messages, dispatched these cyphers to Bletchley and a woman, Joan Clarke, was one of the code breakers, despite living in an era where women were expected to be self-deprecating.
"Hence in group-work, I've come to appreciate that every member can contribute significantly to an assignment despite the academic or social background and expectations."
Dr Joao Baptista is an Associate Professor of Information Systems and teaches on the MSc Information Systems Management and Innovation and is Course Director of the new MSc Business Consulting part of WBS generalist Master portfolio.