Students report says local business missing out on £82m
24 June 2015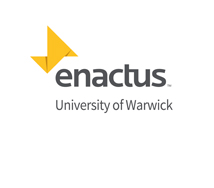 WBS undergraduates have helped produce a report urging independent traders in Leamington to make better use of the huge student population to boost business.
Enactus Warwick, a university branch of the global non-profit organisation linking students with local businesses, has encouraged independent shops, cafes and restaurants in Leamington to make more of the students' spending power.
A new report by the Enactus Warwick Intelligence Unit, entitled The 2015 Leamington Spa Independent Retail Outlook, found local firms only made £2.5 million out of an estimated £84 million potential student spending. The aim of the project was to improve the local business environment in Leamington by flagging up issues and making recommendations on how the retailers can address them.
Daniar Rusnak, Director of Enactus Warwick Consulting and studying Law and Business at WBS, said: "We believe that as students we are an important part of our local fabric and have a responsibility to contribute to its development.
"As Enactus Warwick, we hope to become an important strategic partner to the community; aiming to advise local businesses and charitable organisations on their organisational issues and opportunities.
"Simultaneously, it is an excellent way for the hundred or so students involved each year with Enactus Warwick Consulting to acquire practical experience alongside the excellent education we receive at the University."
The report found factors such as increasing the amount of footfall in Leamington, a lack of customer loyalty, rising costs and brand awareness were all raised as issues facing local independent shops.
Collecting customer data was something that almost all businesses stated they were doing, yet only 50 per cent felt their practices to be adequate.
Mr Rusnak pointed out that 70 per cent of businesses surveyed could not identify a unique customer market, and therefore may not be tailoring their products or services.
"University students were only being targeted by 50 per cent of the businesses, despite the 5,000 students living in Leamington," he added. "Out of their £84 million spending power, only £2.4 million is being spent on local businesses. We believe this is a result of two things - businesses overlook the student market and students are not aware of what local businesses have to offer."
With 63 per cent of students suggesting they do not feel the businesses offer enough to entice them, the report made a number of suggestions to win over the student crowd.
Recommendations include taking on students to help traders build up business on social media and digital marketing and "tailoring retail offerings" to students. The report also flagged up various offers and incentives similar firms in the area are already using to entice students.