Study on Steve Jobs rhetoric gets outstanding paper nod
12 August 2015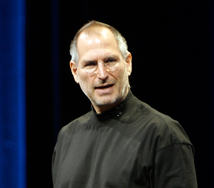 Loizos Heracleous' research wins Outstanding Paper award
Award part of Group & Organization Management Award Ceremony
Research looked at Steve Jobs rhetoric
Jobs' reaction and dialogue in three very different situations analysed
Paper praised for being an exemplary application of qualitative methods
Loizos Heracleous, Professor of Strategy at Warwick Business School, has won a prestigious 'Outstanding Paper' award for his paper on the rhetoric of Steve Jobs.
The research, entitled Charismatic Leadership and Rhetorical Competence: An Analysis of Steve Jobs' Rhetoric, was one of four papers to receive the 2014 Outstanding Paper award by Group & Organization Management (GOM).
Professor Heracleous believes his research shows there are timeless principles of leadership always worth studying, even as other topics in the field come and go.
In reference to the subject matter of his research paper and the award received he said: "Given the fundamental role of language and communication in management as well as society in general, we thought it would be important to understand the rhetorical bases of charisma.
"That is, how do leaders regarded as charismatic speak and frame their communications so as to inspire and motivate others?"
Under the spotlight
To delve into Jobs' rhetoric, the paper examined how the Apple guru spoke and reacted in three different situations, a deposition by the US Securities and Exchange Commission (SEC) in March 2008 relating to allegations of backdating stock options, a TV interview with CNBC in June 2005 and an onstage discussion at the D8 All Things Digital Conference in June 2010.
Each scenario was very different with the SEC deposition and CNBC interview putting Jobs under the spotlight with more aggressive questioning, while at the D8 Conference he was held in high-esteem with the conversation a lot lighter.
"The combination of a pertinent research question, addressed via an application of discourse analysis principles informed by the ancient art of rhetoric, helped our research paper be recognised as an 'Outstanding Paper' published in Group and Organization Management journal," added Professor Heracleous.
"This recognition helps to draw attention to the fact that in addition to fads and fashions that come and go in the management field, there are timeless principles of leadership and influence that we ought to appreciate and investigate.
"We are currently expanding this research following similar analytical lines, by exploring why Steve Jobs' famous Stanford commencement speech has struck a chord with millions of individuals."
Professor Heracleous received the award at the Annual GOM Luncheon held at the Academy of Management meeting at the Hyatt Regency's English Bay Room in Vancouver.
Exemplary application of qualitative methods
William L. Gardner, Editor-in-Chief of Group & Organizational Management, added: "The winners of our Outstanding Article selection had many unique features making them worthy of special recognition from the many high quality candidates in 2014.
"Our editorial team found this case study of Steve Jobs' rhetoric and its contribution to his charismatic image to be fascinating. It was an exemplary application of qualitative methods.
"I encourage others to read this article for additional great examples of how and why Steve Jobs' words helped to make him the prototypical charismatic leader of his generation."
The article was one of GOM magazines most heavily downloaded articles in 2014. Read the research for yourself by downloading the paper at this link to Group & Organization Management article.
Read Professor Heracleous' blog: Steve Jobs Six lessons from his public speaking.
Professor Loizos Heracleous teaches Strategy and Practice on the Warwick Executive MBA and MSc Marketing & Strategy.
Follow Professor Loizos Heracleous on Twitter @strategizing.
Watch Steve Jobs Ted talk on How to live before you die.
Photo credit: Ben Stanfield