WBS Graduation highlights:15 July 2015
15 July 2015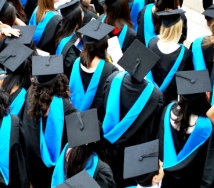 Hundreds of Warwick Business School undergraduate students have celebrated the success of graduating in this summer's ceremony.
More than 350 undergraduate students packed into Butterworth Hall, at Warwick Arts Centre, to be presented their degree on the day by Professor Mark Taylor, Dean of WBS, and Professor Louise Gracia, Associate Dean.
The ceremony also saw Stefan Van Der Fluit pick up the Outstanding Student Contribution Award, which is presented every year to a University of Warwick student for exceptional achievement in contributing to the university community outside of their studies.
Stefan, a BSc Management graduate, was delighted to have picked up the award, created a website and other initiatives to help students find collaborators to set up businesses together.
He said: "It was a nice surprise, I was quite honoured. I love helping entrepreneurs and anything start-up related on campus. We set up a couple of initiatives and I was already happy to meet up and give time to people.
"I'm proud of this for my parents, but also the extra tickets allowed my whole family to come as an entourage!"
Graduates, guests and faculty then made their way to the WBS graduation reception in the Rootes Building to continue the celebrations and let their hair down after years of hard work.
Honorary graduates on the day were Sir Michael Barber (Honorary Doctor of Laws) a leading authority on education systems and education reform and John Cridland Hon LLD (Honorary Doctor of Laws), Director-General of the Confederation of British Industry (CBI).
But what is it like to graduate from WBS? We spoke to four undergraduates to find out their feelings on the big day:
The Big Deal connection
Name: Joe Wareing
Course: Accounting & Finance
From: UK
Joe Wareing first set foot in WBS almost 10 years ago as part of The Big Deal, a 10-week Dragon's Den style competition for 13-14 year-olds, which is part of Warwick's outreach programme designed to promote the values of higher education and to encourage students from non-traditional backgrounds to aspire to research intensive universities.
Now he has graduated from his BSc Accounting & Finance degree having acted as a mentor on the very competition that drew him towards business over his initial dream of studying medicine.
Speaking at the graduation ceremony Joe said: "Ever since I knew I wanted to study Accounting & Finance at university, I set my sights on Warwick, and now to say that I have graduated from WBS is a dream come true.
"With WBS having such a high reputation nationally and internationally, I know that a degree from here will put me in great stead for the future. I've had a great four years studying at Warwick, and although I'm sad to leave, I will always have fond memories of my time here.
"After I graduate I will begin my career with EY in their FIDS (Fraud Investigation & Dispute Services) department, a branch of Assurance, where I will begin my journey to becoming a chartered accountant. A journey which I know will be tough, but one that I cannot wait to begin, knowing that my time at Warwick will have given me the best possible start."
The spin class maestro
Name: Natalia Dobias
Course: Management (1st)
From: Slovakia
Natalia Dobias was one of the quietest and shyest students her personal tutor, Manuela Galetto, Assistant Professor of Organisation and HRM, knew at the beginning of her journey at WBS.
However, she quickly grabbed every opportunity on offer and made the most of them. A three-week cultural and academic programme in China and a 14-month placement at Microsoft were the highlights for Natalia. While outside of WBS she raised money for charity, cycling to France and even became a spinning coach, establishing her own website.
Natalia said: "The past four years at Warwick have undoubtedly met and exceeded my expectations. During my time here, I co-founded Warwick Management Society, spent an unforgettable spring-break in China studying its language, culture and business environment as well as completing three years of intense management studies and a year-long work placement at Microsoft.
"Reflecting back on my student journey, I can say with certainty that I am no longer the same fresher who stood at Warwick's doorstep four years ago.
"WBS, thank you for guiding me through the crucial phase of self-discovery. Not only have you helped me become an educated and experienced professional, but also I have grown into a more confident and competent young individual. Although I am now ready to start my 'university of life' and make a dent in the world, I will always be proud to call myself a WBS graduate."
The star student ambassador
Name: Bradley Glover
Course: Management (1st)
From: UK
One of the business school's star ambassadors, Bradley Glover has been a particularly engaged ambassador. While at WBS he has done a variety of work across the University including widening participation work, as well as being involved in international student-run volunteer and exchange organisation AIESEC, and travelling overseas to speak at conferences. He is now planning to set up a social enterprise business with his friend in Middlesbrough.
Bradley said: "My time at WBS has been everything I could have asked for and more. Here on campus I've got to grips with all the knowledge I need to get a business off the ground, while off campus I've had the chance to travel to over eight countries with a youth leadership organisation.
"I have graduated after three years of fun, learning and hard work. And I've never been more proud, to be able to look back and see what I've achieved... I really feel like I've made it."
Tweets about #wbsgrad AND @warwickbschool
The Economist prize winner
Name: Alessandro Presa Perez
Course: Accounting & Financing (1st)
From: Spain, but born and raised in Brussels, Belgium
Alessandro Presa Perez was part of a team of three students who won the inaugural The Economist Kerrisdale Capital Investment Case Study competition.
Alessandro, who flew back from Geneva for graduation where he is on a summer internship at JP Morgan, said: "When I look back at my time at Warwick, I can't but feel tremendously grateful. The one special thing about this university is the breadth of opportunities available.
"In just three years, I had a truly remarkable and complete experience. In my first year, I volunteered in Brazil with AIESEC, the student organisation, and picked up a new sport - water polo.
"Other personal highlights throughout the years include me helping turn around the financial situation of our student newspaper and of course winning The Economist competition with two of my close friends and securing the internship with JP Morgan.
"I am not quite sure where I want to take my career, but I am confident WBS has provided me with the right toolkit to succeed. It does not feel like a jungle out there anymore."