Summer graduation celebrations 2014
25 July 2014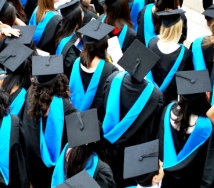 On Wednesday 16 and Saturday 19 July, Warwick Business School celebrated the success of students graduating in this summer's ceremonies.
Over 1000 WBS students graduated this summer, and many of them attended their graduation ceremonies in Butterworth Hall over the two days, alongside their family and friends.
Wednesday 16 July – undergraduate programmes
Wednesday saw 320 undergraduate students accept their degrees, presented by Professor Mark Taylor, Dean of WBS, and Professor Louise Gracia, Associate Dean. A further 38 students graduated in absentia.
After the ceremonies in Butterworth Hall, graduates lined up for the traditional University of Warwick class photo on the piazza, including the compulsory cap toss, in the glorious sunshine. Graduates, guests and faculty then made their way to the WBS graduation reception to continue the celebrations.
Among this year's cohort of graduates was Zubair Malik, who graduated from BSc Accounting & Finance. Zubair said: "My experience with WBS has been fantastic and I loved every moment of university. With every passing year WBS is becoming more prestigious, and as a WBS graduate it makes me proud."
Saturday 19 July – postgraduate programmes
On Saturday 19 July it was our postgraduates' turns to don their robes and caps. 678 students graduated, with 413 attending the ceremony to receive their certificates in person.
This summer saw the first graduation for our MSc in Police Leadership & Management, with the first graduates receiving their Masters qualifications. Among the group was Jayme Johnson, who has accepted a place at Harvard's Kennedy School of Government, to study for an MPA.
Jayme said: "The MSc in Police Leadership & Management was a fantastic opportunity for me to mix with like-minded people in my profession, exchange ideas and really get excited about the job we do. The course is a credit to the collaboration between Professor Keith Grint and his team at Warwick, and Chief Inspector Andy Harris and his team from the College of Policing."
Graduating from one of the top university-based business schools in the world is not the end of the WBS story for these graduates, as the careers support and networking potential doesn't end at graduation.
Dean of WBS, Professor Mark Taylor, comments: "I congratulate all of our 2014 graduates and I am delighted to welcome you into the Warwick Business School Community. Our global alumni now totals over 40,000 individuals across the globe, and I hope each and every one of you feels proud to be a part of the Warwick alumni network.
"At Warwick Business School we know that higher education is an investment in your future career, and we aim to assist you by providing a lifelong return on this investment. I know that you are leaving WBS ready to face the challenges of the highly competitive business world, and we wish you every success for your future career."
Faculty success
Our students weren't the only recipients of commendation during graduation week. Assistant Dean Dr Ashley Roberts received recognition after he was chosen for a National Teaching Fellowship by the Higher Education Academy, for demonstrating "individual excellence and raising the profile of excellence" in teaching. Ashley is now a member of the Association of National Teaching Fellows and will be handed his National Teaching Fellowship at a ceremony at Liverpool Cathedral in October.