Talented WBS students awarded
26 November 2012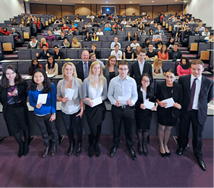 The achievements of several undergraduate students and graduates of WBS have been justly recognised in recent weeks. We report on these below.
UBS-sponsored awards for six students
The investment bank UBS has been generously supporting WBS students for the past five years by awarding prizes to the best performers in two modules, Financial Management and Foundations of Financial Management. As well as presenting the prizes, UBS speaker, Oliver Gaunt, delivered a guest lecture entitled 'Leveraged Finance: Trends, Issues and Solutions'. The event concluded with a drinks reception, courtesy of UBS, at which students had an opportunity to network informally with UBS representatives.
The winning students were:
For best performance in Financial Management:
1st prize of £100 to Louiza Christou
2nd prize of £50 each to Dimitar Raynov and Ching Yee Chong.
Louiza, Dimitar and Ching Yee are all BSc Accounting & Finance students.
For best performance in Foundations of Financial Management –
1st prize of £100 to Elise Svedal Nilssen
2nd prize of £50 each to Rachel Knott and Elyse Ro.
Elise is a BSc Accounting & Finance student, and Rachel and Elyse are BSc International Management students.
Professor Peter Corvi, Associate Dean of the WBS Undergraduate Programme, commented, "We are very grateful to UBS for their continued and valued support for our students and for giving up their time to host this event and meet with our students."
Top in the world out of 31,700 candidates
Natalie Essex qualified with a BSc in Accounting & Finance in July 2011, and went on to take employment at Birmingham-based accountants LDP Luckmans. She continued her studies by taking the Audit and Assurance paper in the most recent Association of Chartered Certified Accountants professional exams. She was 'stunned' to find out that her 92% score had put her in first place in the world, with a total of 31,700 candidates taking the exam, beating students from China, Singapore, and Commonwealth countries.
"I thought the exam had gone well but I didn't expect it to have gone so well. I feel really happy to have achieved the mark," she told the Birmingham Post.
Warwick Gold Global Advantage Winner also Wins a Trip to USA
Nicole de Menezes is in the final year of her BSc in International Business. Last year she was a winner of a Warwick Gold Global Advantage Award. As a result of this award, she was sponsored to attend this year's One Young World Summit in Pittsburgh, which brought together 1,300 young delegates from over 180 countries.
Nicole reports, "We left Pittsburgh feeling energised to take action. One Young World emphasised to us that feeling passionate about these problems is important, but these good intentions are empty without concrete actions. Often pressing issues overwhelm us with their magnitude, but if each of us does something small in our communities, we can leave the world in a slightly better position than when we came into it. The quote that most resonated was not one that came from a Nobel Peace Prize winner, nor a global business CEO, but from a passionate delegate speaker – 'We are born as a human being, let us die as a human doing.'"
Nicole and her colleagues are taking action through awareness campaigns and challenges to get as many people as possible involved – including a '1.4 Billion Reasons' presentation on the Warwick campus.