Teaching Excellence Awards for WBS faculty
29 May 2013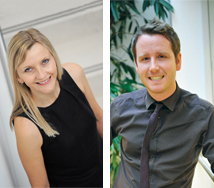 Two members of WBS faculty have received a Warwick Award for Teaching Excellence (WATE). They are Louise Gracia, Principal Teaching Fellow, and Ashley Roberts, Senior Teaching Fellow.
The Warwick awards recognise and celebrate excellence in teaching and support for learning at Warwick. They are designed to fit with the criteria of the National Teaching Fellowship Scheme which recognises and rewards excellent learning and teaching and is funded by the Higher Education Funding Council for England (HEFCE).
Winners are chosen from a shortlist of ten, following nominations put forward by students and staff. Nominees must meet wide-ranging criteria:
Promoting and enhancing the student learning experience
Motivating, stimulating and inspiring learning
Imaginative use of resources
Recognition of a diversity of learner needs
A dedicated and committed approach to student learning
Supporting colleagues and influencing support for student learning
Demonstrating impact and engagement beyond their immediate academic or professional role
Contributing to the development of colleagues
Contributing to wider initiatives to facilitate student learning.
The winners are awarded £5,000 to further enhance their practice, and will be presented with their prizes at the Summer Degree Congregation in July.
Dean of WBS Professor Mark Taylor commented, "I am delighted that two members of WBS faculty have achieved these prestigious and sought-after awards. Our vision is that what underlies all our activities is academic excellence and the impact of this excellence on society; the achievements of Louise Gracia and Ashley Roberts are testament of our efforts to bring this vision into reality."
Details of award winners and commendees in other University of Warwick departments are available on this link.
Louise Gracia teaches the modules Business Taxation; Accounting Inquiry; and Images of Creativity. Ashley Roberts teaches Organisational Behaviour; Leadership and the Art of Judgement; Management of Change; Management, Organisation and Society; and Styles of Coaching and Team Leadership.