Warwick MBA by distance learning spans the world
06 November 2013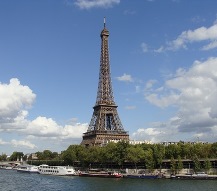 Jonathan Daniels is 37 years old and a U.S. citizen who lives and works in Paris, France. He is part of the fourth generation to work for his family's seafood company, Wanchese Fish Company, and his role is to oversee the company's European office. He is approaching the end of his first year of studying for an MBA at WBS, through distance learning.
Before joining his family's company, he and his wife lived in Southern Asia working with children's homes, drug rehabilitation centres, and disaster relief projects. His degree and work experience was completely different than the business world and when he stepped in to oversee the European office, he was learning on the go. He wanted an opportunity to learn more from a reputable school to go along with the day-to-day real life work experience he was receiving on the job. After researching several distance MBA programmes based in France, Spain, USA, and the UK he felt that WBS was the perfect fit.
He explained how his online studying is benefitting him in his ambition to learn more about running a business,
"Doing an MBA wouldn't be possible for me if it were not offered in an online format. The blended format that WBS offers allows me the flexibility to schedule study hours that don't conflict with work and family time. It also allows me to pace myself according to the comfort level I feel with the particular subject. Thus far, I would say the greatest benefit has occurred through meeting (virtually and in person) my classmates who are spread throughout the world. We keep in constant touch through the WBS message forums, live sessions, Skype and Facetime calls, and even through WhatsApp text messages. Their vast experience, ambition, generosity and character are making this programme well worth it.
And how his life has changed since starting the course,
"WBS isn't a School that just hands out MBA degrees. Their reputation in the industry is well deserved and they make us work hard to understand the material and to produce top class graduates. Because of the commitment necessary to succeed, I had to choose what would be my opportunity cost. I couldn't sacrifice my job, and my family is also too important to affect with this time commitment. Thus, I chose to sacrifice sleep and my social life. My time management skills have definitely improved since beginning the course along with my abilities to add greater value to my family's company. Upon completion of the programme, I hope to make my family proud by contributing to the historical success of our company. In addition, when the programme is finished, I also look forward to catching up on all the movies I have missed over this time period.
Asked if he would recommend online learning and study to others, he offers this advice,
"If one so chooses, they can isolate themselves and learn the material completely on their own. However, the opportunity is present to engage with amazing people from all over the world and to virtually walk through this course together. It is a mistake to assume this programme is easy just because it's online, therefore I would recommend for people to weigh the costs and their personal motivations before jumping in. Once you make the plunge though, the real fun begins. I'm just hoping I feel the same way after my upcoming exams! Wish me luck!"
The Warwick MBA by distance learning was launched in 1986 and is fully-accredited. It is the top provider in the UK of distance learning MBAs, with around 1,500 current participants from over 100 countries. All Warwick MBA participants graduate with the 'Warwick MBA', regardless of whether they studied full-time or part-time to achieve this success. The Warwick MBA is also available by full-time study, executive (modular) study, while the Warwick Global Energy MBA is for managers working in or with the energy sector.
Photo by Rudy Tiben