This alumni's using her MBA to promote diversity
24 November 2017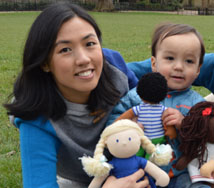 MBA creates a set of multicultural dolls to help children learn about diversity
Four dolls produced initially along with a book on their adventures
Winnie Mak raises £18,000 in a crowdfunding campaign to kickstart business
Her One Dear World business aims to promote diversity and inclusion
Whenever Winnie Mak went to playgroup her two-year-old son she found he always played with a black soft doll.
"It was called Sophie and he loved it," she says. "I remembered my Mum made me a doll when I was a child, it was my comfort doll. I wanted to get one for Alexander, but when I looked on the internet the choice for ethnic minority dolls was pretty limited, so I decided to make one."
It was then that Winnie had the idea of designing a range of multicultural dolls and set up One Dear World - a business promoting diversity and inclusion. Winnie grew up in Hong Kong, while her husband Rafael is half French and half Greek, plus living in London's melting pot of ethnicity made her realise how important it is to be accepting of the many different cultures in the world.
"I realised that as my son grows up he will question whether he is Chinese, English, French or Greek," says Winnie. "But I want him to identify himself as a world citizen and to realise that the world is made up of a rich tapestry of cultures, including himself.
"We identify with a culture, but at the same time parents can help children to see the world in a broader sense. Having such a culturally rich family, I am passionate about bridging the cultural gap and promoting diversity and inclusion."
Winnie felt a set of multicultural dolls could be a useful set of tools for parents to teach their children to appreciate themselves as they are and learn to respect other cultures.
"The dolls represent different race, so when children grow up they can see themselves being friends with people who are different from them," she says.
Winnie quickly realised this could be a business opportunity and this is where the MBA she undertook at Warwick Business School came to the fore. She was able to dip into every module of it from marketing to entrepreneurial finance to get her business going. Though one aspect it didn't teach her was designing dolls.
"I drew the designs myself, and then I sourced a factory in China," says Winnie, who worked as a Sales Manager for multinational electronics and fibreoptics manufacturer Molex in Hong Kong before embarking on a full-time MBA. "I was planning to do 15 or 16 dolls with different personalities and features, but I picked four to start with to test the idea.
"The MBA has been a real help. I loved spending a year at Warwick; coming from such a busy and crowded city as Hong Kong, being in the countryside was a real joy and gave me the space to think about the next stage of my career.
"Moving to London opened my eyes to all sorts of possibilities and then starting a family made me think what sort of world do I want my children growing up in. I think the One Dear World business offers an important message, especially in these times with Brexit. That is a worry for us, but we are flexible and will move to another country if we have to."
With the first dolls made, Winnie started marketing them and organised a crowdfunding campaign, raising more than £18,000.
"That reduced a big chunk of the risk and working capital for me," says Winnie. "In early October this year we shipped them to the UK and dispatched all the dolls to our backers."
Winnie has written a children's book called London Hat Hunting Mission to accompany the dolls. It details their adventures in London and has been published in time for Christmas.
"I did the illustrations as well," says Winnie. "When you buy a doll you can get a discount on the book. I will be organising storytelling in libraries and independent stores around London as it is about London's cultural diversity.
"The reaction to the dolls has been really good, they are selling on online toy stores, Amazon and other online market places. We have had interest from bricks-and-mortar stores and we will looking to expand our lines of distribution – it is an exciting time."
It is for Alexander as well, who now has four dolls to play with.