Can Google predict the stock market? See Dr Preis at TEDx
19 November 2013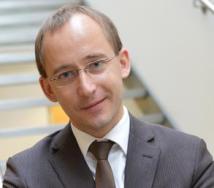 Tobias Preis has revealed how his research suggests that the digital traces humans leave behind could help predict the stock market.
The Warwick Business School Associate Professor of Behavioural Science & Finance told the TEDxWarwickSalon audience how studying Google search terms revealed a link between certain words like 'debt' and stock market movement. Dr Preis and his collaborators, WBS Assistant Professor of Behavioural Science Suzy Moat and Professor H Eugene Stanley, of Boston University, demonstrated this striking link using a trading strategy, which could have generated a return of up to 326 per cent.
"We found the more financially relevant a term is, the more likely the trading strategy is to be successful," said Dr Preis at the event at Warwick Business School, which will be sponsoring TEDxWarwick 2014. "Nearly everything we now do involves interacting with large technological systems, such as the internet. These technological systems generate data trails, or 'digital traces', of our day-to-day behaviour. The results I have shown suggest that, in some cases, these traces might make it possible to anticipate our future behaviour."
Watch the video below to see how Dr Preis did it, and how mining online encyclopaedia Wikipedia also produced early warning signs of moves in the stock market.