Tributes pour in for Professor Ben Knight
04 July 2020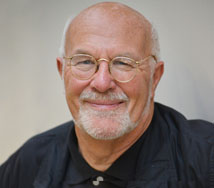 Tributes have been made to Ben Knight, Professor of Practice and Associate Professor of Economics, who has sadly passed away at the age of 78.
Professor Knight was a much loved member of faculty at Warwick Business School and will be sorely missed by staff, students and alumni, having taught at the University of Warwick since 1967.
He was diagnosed with kidney cancer in 2018, but kept working until shortly before his death at the end of June through what his daughter Rosie described as "his brilliantly supportive colleagues at WBS, his extraordinarily active mind and needless to say his sheer bloody mindedness".
Professor Knight spent most of his 53 years at the University of Warwick teaching in the Economics department before moving to Warwick Business School as a Professor of Practice in 2012.
Not only did Professor Knight excel at researching economics but in teaching the subject as well, winning an Award for Outstanding Contribution to Teaching at WBS in 2017, collecting the MBA Outstanding Teacher Award from 2003 to 2016 and being runner-up at the Economics Network Teaching Awards in 2019 for the Award for Outstanding Contributions to Economics Education.
On receiving the WBS award in 2017 he said: "Teaching is all about building a relationship with the students and getting them enthused about the subject. I try to make sure I am enriching their experience and enhancing their learning."
Professor Knight saw his research in employment relations and business strategy published in leading journals like European Management Journal, Human Resource Management Journal and Industrial Relations Journal while contributing to several textbooks on the macroeconomics and microeconomics of strategy.
Andy Lockett, Dean of WBS and Professor of Strategy and Entrepreneurship, said: "Ben was well loved by all of the students he taught. His ability to bring economics to life, ensuring that it was very far from the dismal science, was remarkable.
"Ben was a tremendous servant to Warwick and his field of economics. His passion for the subject came through in his teaching where students would always talk of how much they enjoyed his lectures.
"As a colleague he will be sorely missed by our staff and students. Ben's passion, humour plus his care and concern for his fellow colleagues will be greatly missed. Our thoughts are with his family and loved ones at this time."
James Mitchell, friend of Professor Knight and Professor of Economic Modelling and Forecasting, said: "It goes without saying how much of an impression Ben left – due to his energy, sense of humour and love of economics – on all his students and his fellow lecturers. He was a great mentor to me and took me under his wing in my early days at WBS.
"Among other things, I was always amazed and impressed by his ability to remember the names and backgrounds of all the MBA students in his current and previous classes – and he would draw on this in his lectures to get everyone involved, using the economics in business contexts of interest to them.
"He also had a very close friendship with the team of Distance Learning MBA lecturers he nurtured and who continue to provide invaluable service.
"I got to know Ben's wife Cynthia a little as we enjoyed dinners together in London after Ben and I had finished teaching sessions together at The Shard. These were lovely evenings. My heart goes out to his wife and family."
Reza Moghadam did his PhD under the supervision of Professor Knight before going on to play a leading role at the International Monetary Fund for 20 years and is now Vice-Chairman for Global Capital Markets at investment bank Morgan Stanley.
"Ben was a great supervisor not just because he was an amazing source of ideas and a sounding board, but because he cared for us as individuals," said Reza. "Doing a PhD is often a lonely business but not so with Ben. He constantly reached out, not just to push along the thesis, but to support and encourage. He started as a supervisor but remained a friend.
"Ben took huge pride in what Warwick had achieved as an institution during his tenure. But he took equal pride in what each of his students like me achieved at Warwick and beyond. This is why his passing is a devastating blow to each of us."
Brian Parsons, Head of Natural Resources & PUI, International Corporate Banking at Barclays, who was supervised by Professor Knight for his Executive MBA dissertation, said: "Ben brought a deep knowledge and a passion for his subject to enhance my MBA experience and to rekindle and sustain my love for the subject. It remains one of the highlights of my time with WBS.
"I know I speak for everyone who attended, and as a cohort we remarked upon it often, when I say that Ben's enthusiasm infected us all and remains an experience during our time at WBS that we all remember fondly. I send my sincere condolences to his wife, family and colleagues."
Robin Naylor, Professor of Economics at the University of Warwick, added: "Ben was a phenomenon: one of the warmest, kindest and most supportive of teachers and colleagues one could wish for. Combined with his dedication to the subject matter of economics, his passionate determination to convey knowledge and understanding to his students and his charismatic style of lecturing, Ben inspired countless numbers of students in the department of economics.
"Of course, this also made him an impossible act to follow. (I always made sure I taught in term one in all the many modules we shared together over the many years). Ben sparkled in the lecture theatre: a natural performer, energy and electricity seemed to burst from him – but it was the substance of his material that mattered most to him and that grabbed his students' attention and inspired them to their best work. Ben cared."
Professor Dick Sargent, a founding member of the Economics department at the University of Warwick, said: "Ben was an early member of the department, and became very much a stalwart of it. He was one of those unexcitable people who could always be relied on to get on with whatever required doing, and at the same time to have a joke or some perceptive observation to share with one. My condolences and best wishes go to his family."
In memory of Professor Knight his wife and family are raising money for The Myton Hospices which cared for him at home and whose funding is under threat. Please click here to donate.
An online book of condolences has been set up in memory of Professor Knight. If you would like to write a message in it please click here.
If you knew Ben and are affected by this news, there is a range of University support available to all staff and students. The Wellbeing Support Services website gives more details about support available, or you can contact the team on 024 76 575570, ext. 75570.