Tributes to Mark Skilton, Professor of Practice
26 May 2020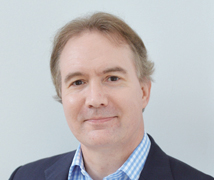 It is with deep regret that we share the news that Mark Skilton, Professor of Practice, passed away on May 16. He was recently diagnosed with cancer.
Mark joined Warwick Business School in September 2013 and served as Industry Director of the Artificial Intelligence Innovation Network (AIIN) since its inception in 2018.
He was a valued colleague, teacher and friend who will be sorely missed by everyone at WBS, especially by the Information Systems and Management (ISM) group where he was a central figure in the community.
Andy Lockett, Professor of Strategy and Entrepreneurship and Dean of WBS, paid tribute to Mark's ability to marry academia and industry, sharing his experience with his colleagues and students.
He said: "Mark joined the school as one of the first Professors of Practice at WBS.
"After a distinguished career in industry, he brought the benefits of his encyclopaedic knowledge of technology to both our taught programmes and our research activities.
"Mark was adept at being able to span the worlds of academia and practice, and we all benefited greatly from his insight, dedication and hard work.
"As a colleague he will be sorely missed by our staff and students. Our thoughts are with his family and loved ones at this time."
Mark's career in business and technology innovation spanned 35 years and 20 countries.
He served as an advisor to several UK and EU government panels and wrote four books on artificial intelligence, the fourth industrial revolution, cybersecurity, blockchain and the Internet of Things. His insight was regularly sought by journalists and he featured in media outlets such the BBC, The Wall Street Journal, Financial Times, Forbes, The Times, and Sky News.
Mark was also working with colleagues at WBS and Fetch.AI on a ground breaking project to explore the use of artificial intelligence to make the University of Warwick more energy efficient.
Joe Nandhakumar, Professor of Information Systems, said: "Mark was an inspiration, a great colleague, and a driving force behind much of the research on artificial intelligence carried out in the ISM group at WBS.
"He had a great passion for research into and the application of future-shaping technologies for business problems; and never stopped in his quest for new knowledge. His books reflect this.
"He shared his passion for his topics with his students he taught and supervised and gave them valuable opportunities to develop their own interests. He was one of the most popular project supervisors among ISM students.
"It was a privilege for me to have worked closely with Mark at WBS over the years. He will be sadly missed."
Sue Newell, Professor of Information Systems and Management, said: "It was a privilege to have Mark in the ISM group.
"He was a great colleague and would go out of his way to help the junior colleagues in the department, especially in relation to identifying the practical relevance of what they were researching and teaching."
The ISM group at WBS is collecting tributes for a book of condolences to present to Mark's family. Please take a photograph of your handwritten tribute and send it to ism@wbs.ac.uk.
Mark's family are raising money in his memory for the University of Warwick's Cancer Research Centre and the Roy Castle Lung Cancer Foundation. Any donations would be greatly appreciated: www.justgiving.com/crowdfunding/mark-skilton.