Turn yourself into a Big Data expert with IBM and SAS
21 February 2014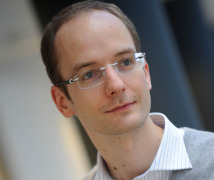 Warwick Business School has teamed up with the world's biggest computer services provider IBM and SAS, a world leader in business intelligence software, to teach students how to mine Big Data.
The digital age has seen an explosion in data with IBM calculating the world is churning out 2.5 quintillion bytes of data every day.
What to do with this tsunami of data, how to mine it and aggregate it is how today's businesses are gaining an advantage over their rivals. In the US alone consultants at McKinsey calculated companies were crying out for 1.5 million Big Data analysts.
It is the next frontier of innovation for businesses and now students studying MSc Business Analytics at Warwick Business School can learn the latest quantitative consultancy techniques to take advantage of this torrent of data.
Working with Warwick Business School's Operational Research & Management Science (ORMS) group IBM has helped put together Analytics in Practice, a module that will explore the technology needed for Big Data analytics by using tools such as BigSheets (front end for Apache Hadoop), Cognos and SPSS Modeler.
While with SAS the ORMS group has produced Text Analytics where students will learn predictive modelling techniques using SAS software, model assessment and implementation, report writing and learn to use the SAS Text Miner tool and applications.
Associate Professor of Operational Research Arne Strauss is delighted to have joined forces with two huge companies in the IT industry who are at the forefront of Big Data technology.
"Data mining skills are something that more and more companies are looking for from graduates and these two modules offer students cutting edge technology to learn the latest techniques," said Dr Strauss.
"Warwick Business School has a long and fruitful relationship with IBM and we are delighted to have put together the Analytics in Practice module with them. It will expose students to real life analytical applications via case studies in IBM's focus areas such as smarter cities and improving business performance. As well as focusing on current IBM software offerings, the course will analyse emerging trends in the field and look specifically at the new generation of knowledge and learning systems that are being built from a foundation of unstructured data, predictive technology and analytical capability such as IBM Watson.
"We are equally pleased to be working with SAS in producing the Text Analytics module. SAS skills have never been in greater demand in the UK and are heavily used in the financial, retail and government sectors.
"Businesses store massive amounts of unstructured data in the form of electronic text, social media content, emails, service notes, customer reviews and so on. This module will teach students how to sift through this data by using sophisticated linguistic rules and statistical methods to evaluate text, discover topics and patterns within entire document collections. By the end of the module students will have learned how to uncover underlying themes or concepts contained in large document collections, automatically group documents into topical clusters, classify documents into predefined categories and integrate text data with structured data to enrich predictive modelling endeavours."
Students interested in learning more about Big Data mining, the modules and MSc Business Analytics should go to the WBS Masters Open Day on Wednesday March 19.