Two WBS students win cash for efforts in Finance
25 June 2014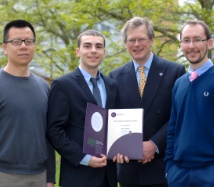 Two undergraduate students from Warwick Business School have been awarded prizes for the best performance in Finance modules.
The prizes were awarded by the Association of Corporate Treasurers (ACT) with each student receiving a cash prize and a certification.
James Lockyer, Development Director at The Association of Corporate Treasurers, presented the prizes to Dimitar Raynov, 21, and Anton Delgado, 21, both from Bulgaria, before giving a guest lecture at the prize giving event. The ACT rewards the best scoring students in modules Finance 1 and Finance 2 of Warwick Business School's BSc Accounting & Finance course.
Lockyer said: "The Association of Corporate Treasurers has a long-standing relationship with WBS, awarding prizes to the top students in Finance 1 and 2, and offers exemptions, discounts and accelerated enrolment paths to professional qualifications for qualifying WBS graduates.
"The ACT is delighted to be able to help celebrate the success of prize winners in their achievements on their course, and wishes them all the best in their future careers."
Onur Tosun, Assistant Professor of Finance at WBS, said: "The relationship between WBS and the ACT provides quality job opportunities for our students, and well trained potential members for the ACT. The performance awards motivate our students to work harder and achieve high grades, while improving their knowledge on different academic topics.
"The ACT also gives our students the opportunity to develop a network with non-university professionals and to widen their perspective on the world outside University."
Anton, who won the prize for best performance in Finance 2, said: "I am honoured and humbled to receive this award, as there were many competent and competitive students in my cohort. I found the module quite interesting and intuitive, which made studying and understanding quite easy. When I saw my grade, I thought I had done well but not prize-worthy. It was a big surprise!"