Professor James Mitchell tells BBC News the UK is still in choppy waters
25 October 2012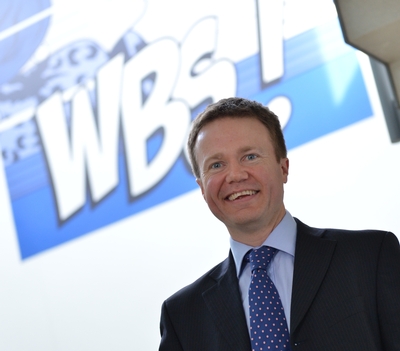 Professor James Mitchell told BBC News that the positive GDP figures can't hide the fact that the UK is currently suffering its longest lasting depression - worse than the Great Depression of the 1920s and 1930s.
The Office for National Statistics revealed on Thursday that GDP had grown one per cent in the third quarter of 2012.

It is the economy's strongest quarterly growth in five years and marks its official exit from a double-dip recession.

But Professor Mitchell fears it is probably only a respite and the UK could well fall back into recession - indeed into an unprecedented 'triple-dip' recession.

The Warwick Business School Professor of Economic Modelling and Forecasting said: "The data does mean that the economy has technically come out of recession, but at least three one-off factors flatter this latest quarterly GDP figure: the Olympics and the second quarter's extra bank holiday and bad weather.

"If we strip out these three one-off factors then underlying growth in the UK remains flat and no higher than two years previously. The level of national income remains depressed below its pre-crisis 2007 level.

"On that basis we remain in the longest lasting 'depression' in living economic memory, including relative to the so-called Great Depression of the 1920s and 1930s.

"The research we have undertaken at Warwick Business School indicates that there is around a one in three chance that economic growth for 2012, as a whole, is positive."
Professor Mitchell feels the recession could leave lasting scars and when the country does recover it could mean that the UK has to adjust to lower GDP growth being the new norm.
"These remain highly uncertain times," said Professor Mitchell, who worked at the National Institute of Economic and Social Research for 12 years. "The economy is still bouncing along the bottom and so one cannot rule out the economy entering into a contraction again.
"We could well get a triple-dip recession, which is unprecedented. Fiscal austerity, higher energy prices, credit constraints and the on-going Euro crisis all present significant downside risks to the UK economy.
"There is also the productivity puzzle; that output per worker remains stubbornly low coming out of this recession, whereas in previous recessions it has bounced back quicker.
"The good news is that more people are employed, but they are producing less, with their real incomes being squeezed. Labour hoarding by firms and more part-time employment are contributing.
"This decline in productivity doesn't bode well for the UK's future economic prospects, since it implies that when people do come back to work they will produce less than they did coming out of previous recessions.
"That is why we are cautious about the prospects for economic growth in 2013. The UK economy is not out of the woods yet.
"Perhaps we will have to adjust to a new economic reality, with growth around 1.5 per cent per annum rather than two to three per cent.
"The recession does raise questions about what economic growth will look like in the future. Historically, GDP has grown about 2.5 per cent each year on average. There is a danger that the current recession has left a permanent scar on the economy, which is being picked up in the lower productivity data. If so, when the UK economy does emerge from recession people may well have to get used to less rapid increases in their standards of living than their parents experienced."