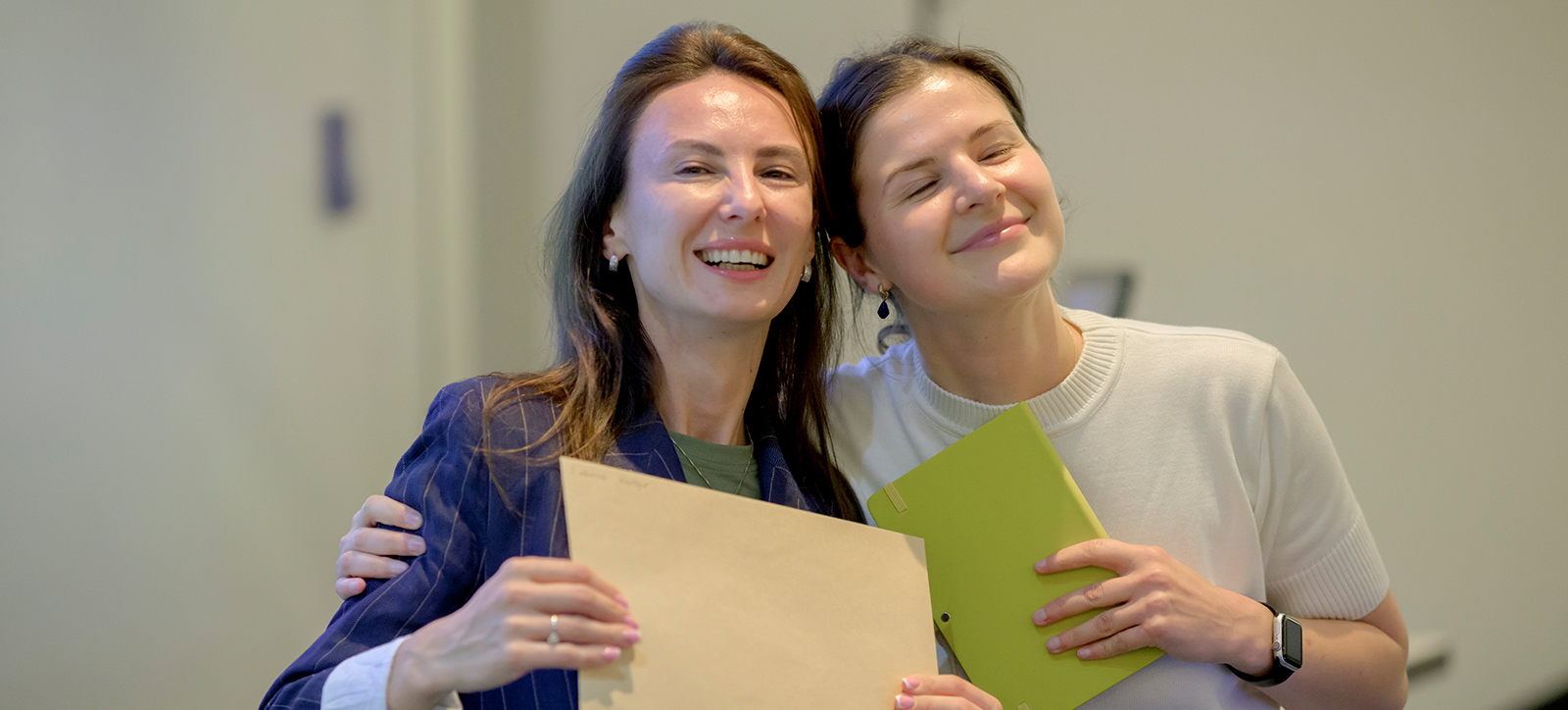 Joining forces: Bo Kelestyn (right) started working with Ivanna Kurtyk on the PGA programme in May 2022
A pioneering Postgraduate programme founded by a Ukrainian academic at Warwick Business School is now helping her country rebuild its education system.
The Ukrainian Education Rebuilding Summer School welcomed 40 education professionals from the war-torn country to the University of Warwick campus this month.
It was an important milestone in a joint initiative by the University of Warwick and the Ukrainian Leadership Academy to address critical post-war challenges, including school system transformation, student wellbeing, trauma support, and effective leadership strategies.
Bo Kelestyn, the Founder and Director of the Leadership for Educational Transformation Postgraduate Award (PGA) scheme, said: "Like every Ukrainian I wanted to find a way to make a contribution, to stand with Ukraine and to do what I can to bring our victory closer.
"So, as a Ukrainian member of the Warwick Business School staff and alumna of the University of Warwick and WBS, I wanted to engage the Warwick community of educational leaders in helping Ukraine transform its education post war."
That community came from the School of Education, Learning and Communication Sciences, which hosted the Summer School.
How Ukraine is rebuilding its education system
There were 14 members of Warwick staff as well as two external experts on post-conflict reconstruction and several local school leaders contributing to the programme.
Gwen Van der Velden, programme co-lead, said: "Warwick has enormous expertise and knowledge to contribute to Ukraine's agenda for reform of education, and finding colleagues that were so willing to support the programme is heartening.
"We also saw participants, who had never worked together before the residential summer school, develop ideas for joint projects in Ukraine.
"As interconnectivity across the education sector within Ukraine is so important for resilience and continuity, this is a very welcome outcome of the programme."
The Summer School closed with the signing of a Memorandum of Understanding (MoU) between Stuart Croft, Vice-Chancellor of the University of Warwick, and Ivanna Kurtyk, Deputy CEO of the Ukrainian Leadership Academy.
This cemented the knowledge exchange partnership between the University, the Ukrainian Leadership Academy and Ukraine's Ministry of Education and Science. The MoU then travelled to Kyiv to be signed by the Minister of Education and Science, Oksen Lisovyi.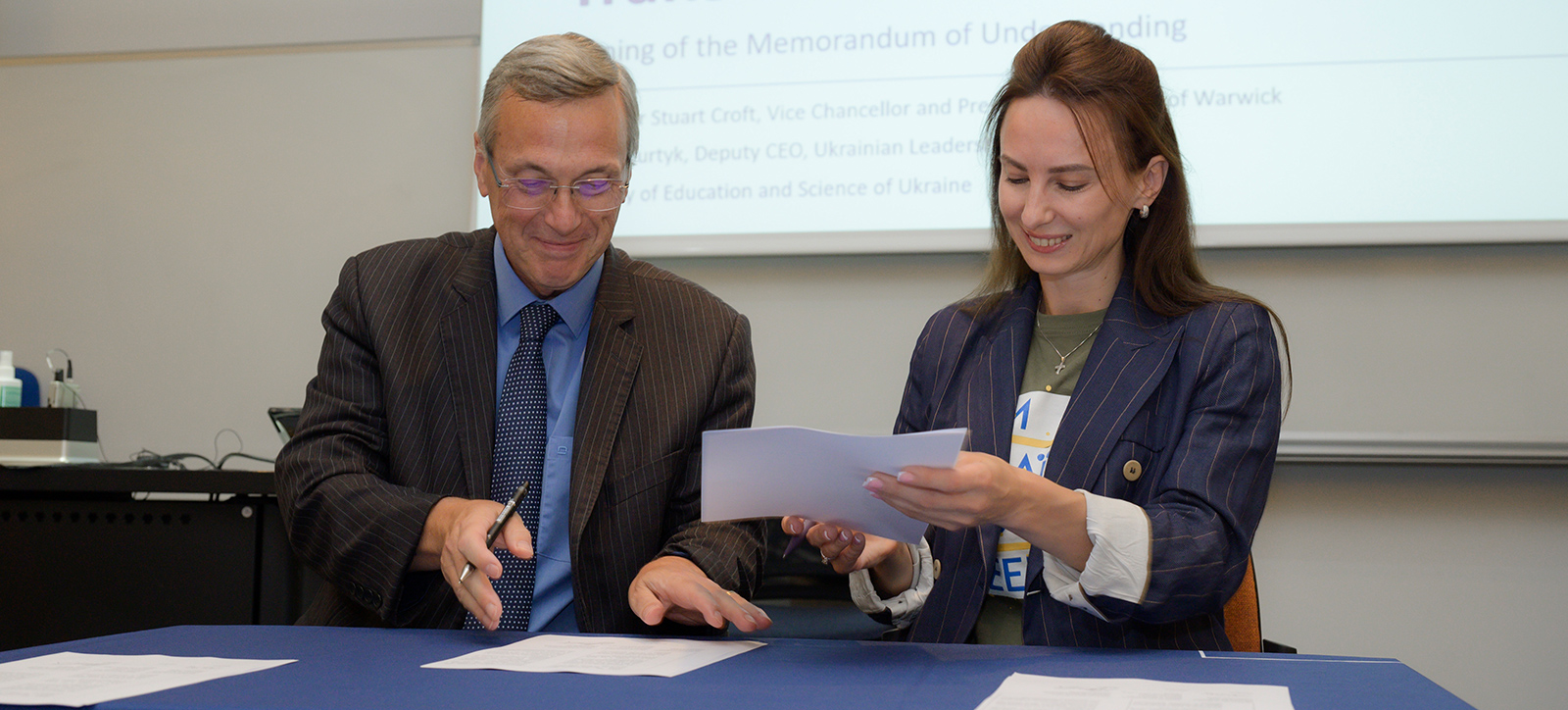 MoU: The move underlines the deep and growing links between the University of Warwick and Ukraine
Ms Kurtyk said: "The Summer School was a sign of our appreciation for the work my Ukrainian counterparts do every day, no matter how difficult the circumstances are, as they continue not only keeping the Ukrainian educational institutions running but also think about their development.
"I think it was a great success. The participants built up connections between themselves and British colleagues. Some of those connections are already turning into joint projects.
"It was a week full of insights and inspiration for all participants."
Leadership for Educational Transformation course to help Ukraine
Ms Kurtyk started working on the programme with Professor Van der Velden and Dr Kelestyn in May 2022.
"In the design of the Leadership for Educational Transformation programme, I drew heavily on principles of design thinking," said Dr Kelestyn, who teaches design thinking across Warwick Business School's portfolio of Undergraduate, Postgraduate and Executive Education courses.
Dr Kelestyn, who is also course director of MSc Management of Information Systems and Digital Innovation, added: "Initiatives such as this have to be built on empathy, co-creation and listening as well as a willingness to face ambiguity and failure - all inherent in the human-centred approaches to innovation."
New partnership for meaningful change in Ukraine education system
The programme does not stop with the Summer School. Further online sessions are planned and participants are working on individual assignments as part of their PGAs. The MoU, the organisers believe, will provide the foundation for more funding and for welcoming more cohorts to Warwick. There were more than 250 applicants for this summer's cohort.
"By signing the Memorandum of Understanding we are determined to turn our partnership into meaningful change for Ukraine's education," Ms Kurtyk said.
"The transformation of education is one of the key priorities for Ukraine," said Mykhailo Fedorov, Ukraine's Deputy Prime Minister for Innovation, Education, Science and Technology Development and Minister of Digital Transformation, in his address to participants at the opening of the Summer School.
"The mission is to form a group of education professionals who not only follow trends but also become trendsetters."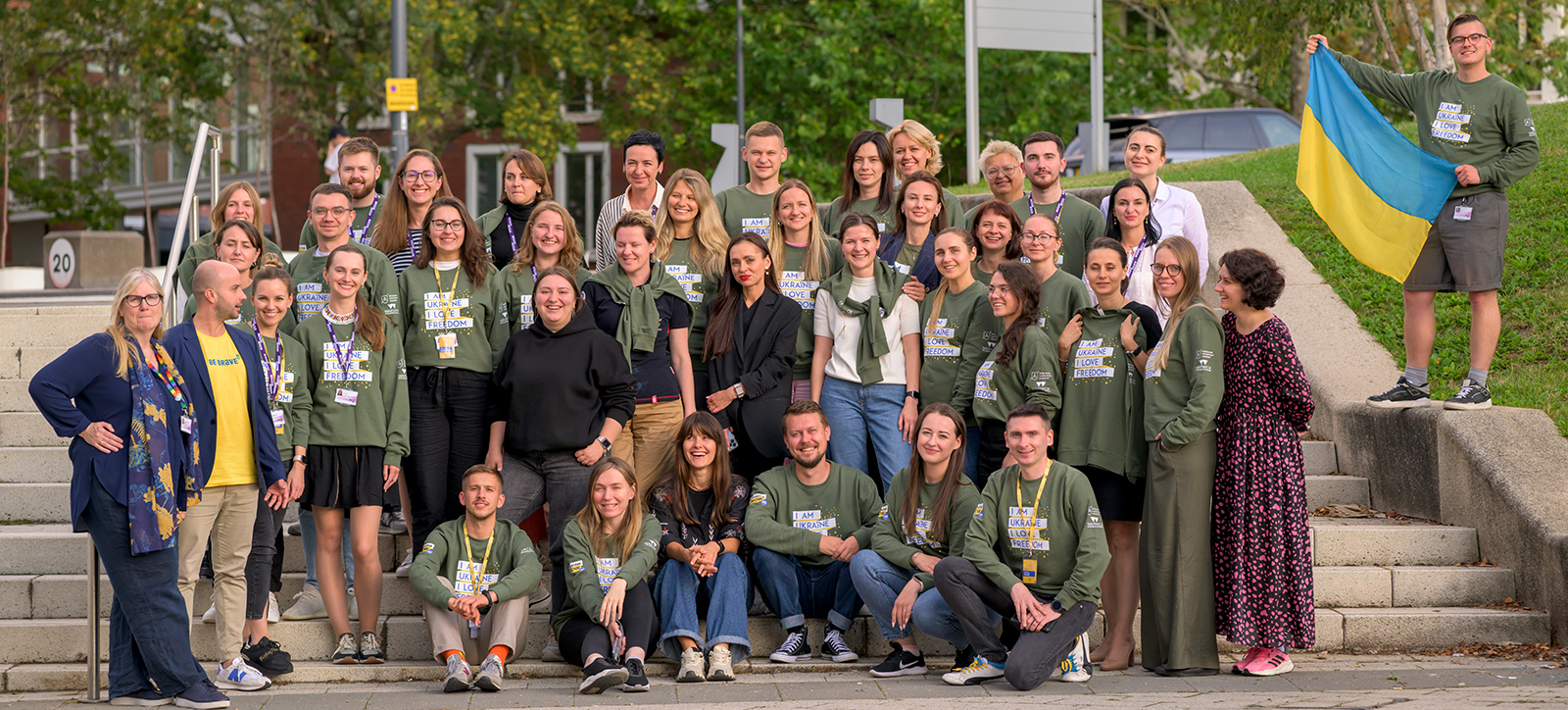 Trendsetters: The Summer School was for professionals who will design the future of education in Ukraine
The Postgraduate programme is just part of the University of Warwick's ongoing support for those impacted by Russia's invasion of Ukraine, including the twinning with Kharkiv National University of Radio Electronics and 15 scholarships for Ukrainian Leadership Academy students.
It follows the visit of the dean from a leading Ukrainian business school to WBS. Iryna Tykhomyrova, President of the International Management Institute in Kyiv, was greeted by Andy Lockett, Dean of Warwick Business School, and shown around the school.
The University is also funding several visiting professor positions. The latest is Vita Dumanska, the leader of Ukraine's political watchdog CHESNO, who will be working with colleagues from across the University, including Warwick Business School.