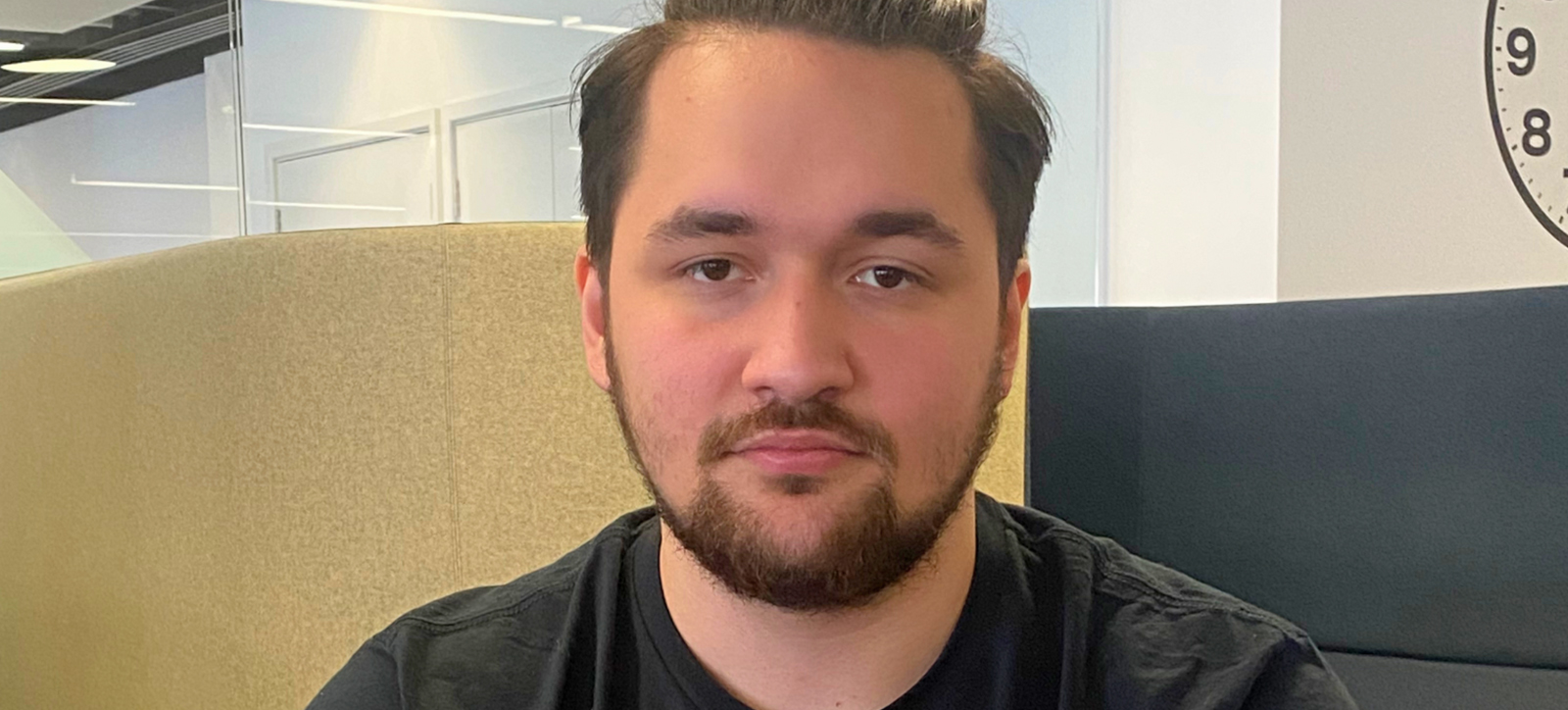 Eldar Agayev set up the Warwick Ukrainian Society to provide support for people suffering in his homeland
When Russian tanks rumbled menacingly across the border into Ukraine in the early hours of the morning on February 24, 2022, Eldar Agayev was in Coventry – with little prospect of any sleep.
The BSc Computer Science with Business Studies student's worst fears were realised as it became clear that Vladimir Putin's invasion had begun. Through snatched conversations with his family at home in Ukraine, Eldar learned his country was in turmoil.
Eldar received hurried messages from his girlfriend: "I asked why she was awake, she responded, 'I heard explosions'."
News coverage began to confirm his worst fears: this was a full invasion, and the situation was escalating dangerously.
Fearing for his family and friends, Eldar spent the evening refreshing news pages, concerned they would soon lose internet access. After a sleepless night, Eldar withdrew all the money he could from his Ukrainian bank account, assuming it would shortly be frozen.
"All I wanted to do was help, but I didn't know how," he said. "I felt so powerless. I texted my Ukrainian friends to warn them before they woke up."
Reports from US sources in the preceding weeks had suggested an invasion was increasingly likely. Eldar and his family couldn't believe this, and thought it was speculation.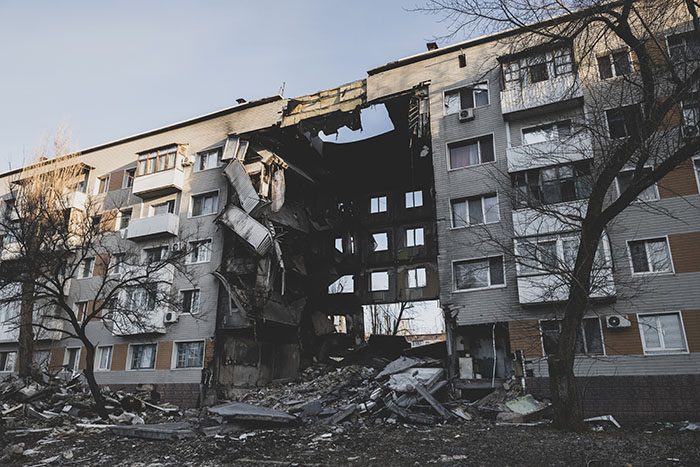 Devastation: A building in the city of Bakhmut in eastern Ukraine wrecked by a Russian missile
He said: "I didn't want to believe it. I didn't believe it until it happened. I had university work to do, but I couldn't think about that. Even after, we were still reluctant to believe it was a full-scale war."
His family in Kyiv told him about their plan to escape, but didn't get far before spotting approaching Russian soldiers. Trapped, they headed back to Kyiv in despair.
Eldar didn't sleep for 72 hours, frozen with panic. Desperate to help, he had a realisation. He decided to use the computer science skills he had learnt as a student at Warwick, creating digital projects to support Ukraine.
"My first project was to provide mental health support for Ukrainians," said Eldar. "You have no idea how stressed we were, not knowing whether they or their families would survive.
"The messages were some of the most disturbing things I have ever read. There was no access to medical support in some areas of Ukraine. So many people reached out, including pregnant women experiencing bleeding and not knowing where else to turn."
The 'Mental Health Support' chatbot supported more than 6,000 people, utilising the expertise of Eldar's friends and family. There were 20 people responding to messages from Ukraine, with many speaking of suicide. This evolved into providing physical health support, addressing injuries, and providing virtual medical information.
Sensing the war was only in its infancy, Eldar turned to gathering support in the UK for Ukraine. He founded the Warwick Ukrainian Society, co-operating with 18 other Ukrainian organisations from universities including Oxford, Cambridge and University College London.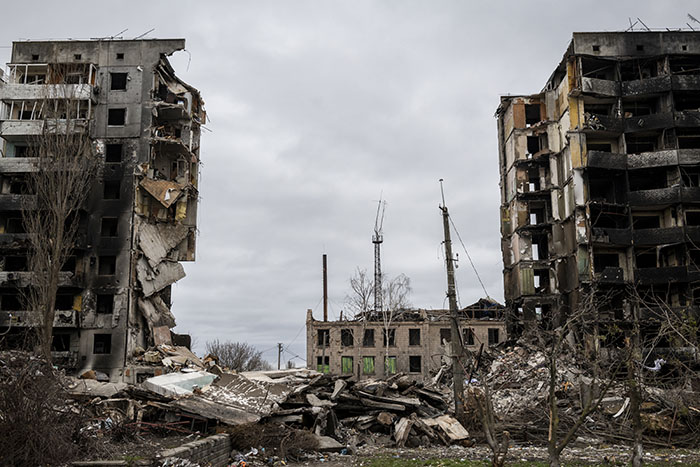 Helping hands: Eldar Agayev has provided Ukrainians with mental health support during the war
In October, Eldar met the Ukrainian ambassador in Manchester, signing a memorandum with Ukrainian societies across the UK. The society protested at Warwick, joining with other Eastern European societies to condemn the invasion.
"We protested at Warwick and received an incredibly positive and supportive response from the University," said Eldar. "We're very grateful for all the support Warwick has given us. For socialising and support, we've now created a West Midlands connection of Ukrainian student organisations, and regularly meet with those from Coventry and Birmingham."
One year on, Eldar's family is out of immediate danger, with his mother now safe in the UK. He continues to plan events under the Warwick Ukrainian Society, beginning with a high-profile panel discussion to take place at WBS on Thursday February 23.
The event will bring together Ukrainian communities from across the University and beyond. It will welcome Ukrainian student societies from other West Midlands universities, as well as proactive community supporters and academic staff to reflect on the last 12 months and look to the future for Ukraine.
Speakers include Head of the National Literacy Project of the Ministry of Culture of Ukraine, Valeria Kovtun and Alexander Pivovarsky, Director, Capital & Financial Markets Development at the European Bank for Reconstruction and Development, and Michael Bradshaw, Professor of Global Energy. In support of the Warwick Ukrainian Society, Deputy Pro-Vice Chancellor Professor Sean Hand, and Pro-Vice Chancellor (International) Mike Shipman will be in attendance, along with Ukrainian Bo Kelestyn Associate Professor of Information Systems and Management at WBS, who helped a former WBS student find safety when the war broke out in her homeland.
Defiant: WBS student Eldar Agayev wants to return to Ukraine to help rebuild his country when the war ends
Since Russian forces illegally invaded Ukraine, the University of Warwick has pledged its support for impacted communities. Warwick has welcomed 10 Ukrainian visiting academics and their families, and offered sanctuary scholarships to six Ukrainian students. It also signed a memorandum of understanding with Kharkiv National University of Radio Electronics as part of a twinning program that supports Ukrainian universities during the war.
Eldar said: "This event will give a safe space for discussion and give our community the chance to not only meet each other but meet people that have been supporting us over the last 12 months.
"I am so grateful to the people of the UK that have continued their support, and for the financial help I am receiving from the University to be able to continue my studies here."
Eldar is confident he will soon be able to return home.
He added: "The first thing would be to see my family and friends and then get back to work – I have to help rebuild Ukraine."