Undergraduates top class to win £400 in prizes
17 May 2016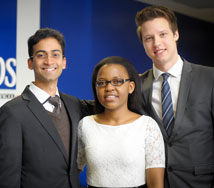 Three finance undergraduates awarded prizes for coming top of their class
Artem Katilov and Lydia Mapoka topped Finance 1 and Finance 2 combined
Hazim Mohammed scored top in Finance 1
Amazon vouchers worth £400 were presented by the ACT
Three undergraduates from Warwick Business School have been rewarded for their excellent efforts in two Finance modules and awarded £400 in prizes at a special presentation.
The prizes were awarded by the Association of Corporate Treasurers (ACT), in partnership with Jaguar Land Rover (JLR) for the second year in a row, with each student receiving a cash prize and a certificate.
The ACT rewards the best scoring students in modules Finance 1 and Finance 2 of Warwick Business School's BSc Accounting & Finance course.
Artem Katilov, of Russia, was delighted to be top of the class in both Finance 1 and Finance 2 combined and win the £150 of Amazon vouchers as first prize.
Artem, a final year Accounting & Finance student said: "The exam built up to a higher difficulty level than we'd experienced before, but I thought it was nice. It was quite challenging. So I was unsure about my score in the end, like most students I guess, but happy and excited to hear the news.
Like Artem, Lydia Mapoka also managed to achieve the highest combined score in Finance 1 and Finance 2 and was also awarded £150 in Amazon vouchers.
"I found the module challenging, but I think the challenge is one thing that drove me to work hard and put a lot more effort and try to structure my studies here," Lydia, from Botswana, added.
Hazim Mohammed, from Malaysia, was the third student to receive recognition for his efforts of gaining the highest score in Finance 1 and received £100 in Amazon vouchers.
Hazim, who is also studying Accounting & Finance, said: "I've enjoyed doing the course very much, accounting was always my passion before coming here – like Artem said the exam was definitely tough though!"
Onur Tosun, Assistant Professor of Finance at Warwick Business School, said: "I believe we have a significant link between WBS and ACT.
"Due to this challenge, my students are highly motivated to study and earn high marks. One of the important benefits of this event is to create an environment for my students to network with professionals outside of academia and broaden their perspective.
"Further, the connection between WBS and ACT offers job opportunities for my students while it provides highly-trained graduates for ACT."
After the award ceremony, JLR's Assistant Treasurer, Duncan Karran , gave a talk on the role of the treasury and a typical day in the life of a treasurer to an audience of students as well as shedding some light on firm policy and the latest developments at the premium automotive giant.
Asma Mohammed, Strategic Projects Managers at JLR also gave a talk on the strategic challenges facing the luxury automotive giant.
Find out more about the BSc Accounting & Finance course using the link, or for those considering postgraduate study, more information can be found on the MSc Accounting & Finance course here.