Warwick Behavioural Science Summit starring Nina Mazar
14 June 2018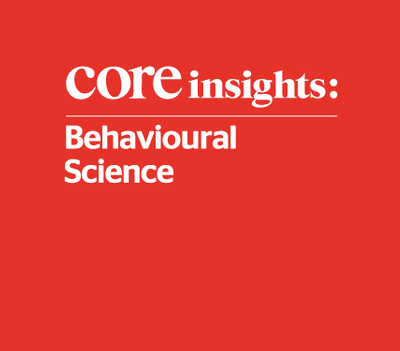 Summit will explore the latest advances in behavioural science
Boston University Professor Nina Mazar will give keynote speech
WBS researchers Ivo Vlaev, Chanuki Seresinhe and Neil Stewart involved
Behavioural Scientists from OgilvyChange, HSBC, and FCA due to talk
World Bank Senior Behavioural Scientist Nina Mazar will be the keynote speaker at the Warwick Behavioural Science Summit.
The Boston University Professor of Marketing, who was part of Barack Obama team of behavioural scientists advising the White House on applying research insights to policy, will be revealing the latest advances in behavioural science at the summit on Friday at the University of Warwick's Oculus.
Professor Mazar's consumer behaviour research looks at topics ranging from the dishonesty of honest people to irrational attraction to free products, the paradoxes of green behaviour, tax compliance, organ donation, and nudges to reduce credit card delinquency.
She is Co-founder and Chief Scientific Advisor for behavioural science-driven management consultancy firm BEWorks and her speech will be followed by talks from Chanuki Seresinhe, doctoral researcher at Warwick Business School and the Alan Turing Institute, Paul Adams, Co-founder of the Financial Conduct Authority's Behavioural Economics and Data Science Unit, Ivo Vlaev, Professor of Behavioural Science at WBS, and Sam Tatum, Behavioural Strategy Director at OgilvyChange, the behavioural interventions practice of marketing and PR giant Ogilvy & Mather.
Daniel Read, Professor of Behavioural Science, who will be hosting the summit organised by the student-run Warwick Behavioural Insights Team, said: "This will be a fascinating day of talks and debates from some of the leader lights in behavioural science from across the world.
"Over the last decade behavioural science has become an increasingly useful tool for policymakers and businesses, with insights being used in a range of areas from increasing organ donation to helping people manage their finances.
"The research from behavioural science is finding practical applications in many areas and I can only see that growing in the future as we combine it with the huge amounts of digital data now available to us."
Ms Sersesinhe, who is also part of the WBS Data Science Lab, will be speaking on her research into using deep learning algorithims to quantify the beauty in the environment and beautiful scenery affects human wellbeing.
By using a neural network Ms Seresinhe was able to train a programme to rate thousands of pictures of the UK for their scenic beauty, finding that the computer could pick out beautiful landscapes and urban pictures.
Professor Vlaev will be part of a panel discussion on the New Frontiers in Behavioural Science, along with Mr Tatum, Colin Strong Global Head of Behavioural Science at Ipsos, Ganna Pogrebna Professor of Behavioural Economics and Data Science at the University of Birmingham, Jez Groom Founder, Chief Choice Architect at Cowry Consulting and Fadi Makki, Founder and Chief of Qatar Behavioural Insights Unit.
Neil Stewart, Professor of Behavioural Science at WBS, will host a 'fire-side chat' with Mr Adams and Stuart Johnson, Head of Conduct Risk & Behavioural Economics at HSBC.
If you can't make the summit you can follow all the action through our live blog on the WBS website throughout the day.
For more information on the summit click here.