Warwick Business School remembers Shivraj Naskar
25 August 2016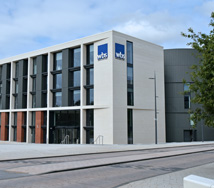 It is with great sadness that the University and Warwick Business School have to report the death of undergraduate student Shivraj Naskar.
Shivraj was due to start his final year as a BSc Accounting and Finance student but tragically died in a car accident in India on Sunday. Shivraj was an exemplary student who was very highly regarded by his family, friends and professors.
Warwick Business School Associate Dean for the Undergraduate Programme John Rudd said: "This is very sad news and will be felt deeply by staff and students across the University.
"We offer our sincere condolences to his family and friends and our thoughts and prayers are with them at this tragic time."
Shivraj Naskar Scholarship
The Shivraj Naskar Scholarship has been kindly donated in memory of Shivraj. Every three years the Scholarship will be allocated to an individual from the WBS Undergraduate Scholarship Programme or Warwick Undergraduate Scholarships and Bursaries Programme who is studying our BSc in Accounting & Finance.
The donors of this scholarship shared these words about Shivraj:
"Shivraj had a lot of wonderful dreams and pure joy - in life. The University of Warwick was the beginning of such dreams. And this Scholarship is a small way for those, special, like Shivraj, to also live their dreams: to cherish every moment of life. And Shivraj's dreams will indeed live through them."
If you knew Shivraj and are affected by this news, there is a range of University support available to you.
The Student Support Services website gives more details about University Support Services, or you can contact them on 024 76 575570, ext 75570.