Warwick MBA Bernardo Hees to take over as CEO of Heinz
15 April 2013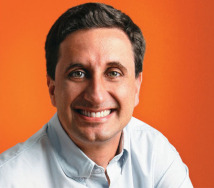 Warwick MBA graduate Bernardo Hees will become CEO of Heinz once 3G Capital and Berkshire Hathaway's billion dollar take over is finished.
The 43-year-old Brazilian took his MBA at Warwick in 1997 and has risen to CEO of Burger King from where he will be joining Heinz once the acquisition of the condiments maker is completed by Berkshire Hathaway and 3G Capital for a reported $23 billion.
Hees will succeed Heinz chief William Johnson, 64, who took the reins at the Pittsburgh-based company in 1998.
Hees, who is a partner in the Brazilian private equity firm 3G Capital, has been CEO at Burger King since 2010 and says he is excited to be moving to the ketchup maker, which was founded in 1869 by Henry J Heinz in Sharpsburg, Pennsylvania.
"I am honoured to be appointed the next CEO of Heinz, building upon the great success established during Mr Johnson's tenure," said Hees in a company statement.
"Heinz is one of the premier food companies in the world, led by the iconic Heinz Ketchup business. I look forward to joining the team and working in close partnership with the company's senior management, employees and customers to strengthen the business both domestically and internationally, while continuing to delight consumers with great tasting food products.
"On a personal level, my family and I are excited to be relocating to Pittsburgh and look forward to calling this great city home."
Before joining Burger King Hees was at the helm of America Latina Logistica (ALL) for 12 years, overseeing growth of 20 per cent a year at the firm which is now Latin America's largest railroad and logistics company.
Hees joined ALL in 1998 after completing his MBA at Warwick Business School, holding various positions in sales, operations and finance before becoming CEO.
"Bernardo is a proven executive with an unparalleled track record of delivering results," Alex Behring, managing partner at 3G Capital, said in a statement. "His combination of experience, leadership skills and broad understanding of the food industry make him the ideal leader to drive the next chapter in Heinz's history.
"Bernardo grew adjusted EBITDA (Earnings Before Interest, Taxes, Depreciation and Amortization) by 44 per cent and expanded the company's adjusted EBITDA margin by 14 per cent, from 19 per cent in 2010 to 33 per cent in 2012."
At Burger King, Hees oversaw a rise in earnings per share with the company re-floating last year and at Heinz he will run a company with 32,000 employees and generated sales of $11.6bn in 2012 to 200 countries, selling, it states, 650,000 bottles of ketchup a year – that is roughly two single-serve packets of ketchup for every person on the planet.
See this story featured in the Wall Street Journal.
The Warwick MBA has around 2,000 students from 100 countries each year on the Warwick MBA by full-time study, Warwick MBA by distance learning, Warwick Executive MBA and the Warwick Global Energy MBA.