MBAs reach European finals in $1 million competition
27 February 2014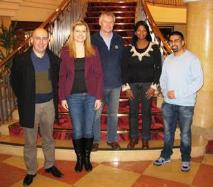 The US-based Hult International Business School is running its fifth Annual Hult Prize, an initiative that brings together top students at top-tier business schools from around the world to seek solutions to the world's most pressing social challenges. It is themed around global food security and will focus on how to get safe, sufficient, affordable and easily accessible food to the 200 million people who live in urban slums. The sponsors will make available US$1million in seed capital to provide funding to pilot the very best ideas.
A team from the Warwick MBA has been selected to go through to the European finals, out of a total of over 10,000 applications from over 350 colleges and universities, covering 150 countries.
The team members are (see photo, left to right) Serkan Bilal, Karen-Ann Dunn, Philip Briggs, Daphnee Pushparajah (Team Leader) and Safi Ghauri. They are a diverse and multi-cultural group, having lived and worked in various countries and with experiences from different industries and sectors, and offer different skills related to medical, education, training, IT, marketing, sales as well as entrepreneurship.
Team Leader Daphnee said: "We have a shared sense of passion for improving the quality of life in society and want to set up a business that brings about social change while providing tangible and measurable benefits for all involved."
The Hult Prize regional competitions will take place on 7-8 March at six cities around the world - Boston, San Francisco, London, Dubai, Shanghai and Sao Paolo. The WBS team will compete in London against 42 other teams. The winning teams from each of the six regional finals will be flown to New York for the global final at the AGM of the Clinton Global Initiative in September, where the US$1million prize will be awarded.
Dean of WBS, Professor Mark Taylor, said: "It is good news that for the fourth year running, we have Warwick MBA participants who have reached the regional European finals in this challenge. It is evidence that we are producing world-class, socially responsible, creative leaders and managers who think on a global scale. We hope the team this year can perform even better than our previous teams, who for the last two years were runners-up – in itself a huge achievement. We wish them all the best for their challenge in London on 7 March."
Further information
The Warwick MBA Triple-accredited and highly-ranked, the Warwick MBA has a growing reputation for academic rigour combined with relevant teaching producing highly employable graduates. The Warwick MBA can be studied full-time over 12 months, or part-time over three years by online / distance learning or week-long modules on campus. The Warwick Global Energy MBA is for managers and executives working in or for the energy sector around the world.
The Hult Annual Prize Founded in 2009 by Hult International Business School alumnus Ahmad Ashkar, and responding to a challenge made by President Bill Clinton in 2010, the Hult Prize is committed to launching a new wave of social entrepreneurs through identifying and launching disruptive social ventures that are poised to change the world. Its annual challenge is the world's largest student competition and one of the world's leading crowdsourcing platforms for social good.