Warwick student second in FT MBA Challenge
21 October 2014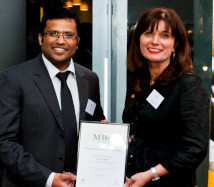 A project to help charity World Child Cancer (WCC) improve the training of doctors in Ghana saw Warwick Business School graduate Atul Agarwal claim runners-up spot in this year's Financial Times MBA challenge.
Agarwal was part of Team Chipo that produced a business plan to increase training of paediatric oncologists in Ghana as WCC looks to help the children in poorer countries survive cancer.
UK-based WCC is the Financial Times' charity for 2014 and aims to improve cancer treatment for children across the developing world. More than 200,000 children develop cancer worldwide each year, but in middle or low income countries just five per cent will survive, compared to 80 per cent in high income nations.
Agarwal and his team put together a plan that centred on establishing a training pipeline for Ghana's paediatric oncologists using programs in Malawi and Cameroon to capitalise on existing sub-Saharan African research. They also set out details on creating an African Child Cancer Virtual Community to spread new information on clinical research and case consultations.
Mr Agarwal, who finished his Warwick MBA in 2014 and now works for business-to-business media firm Tarsus Group in London, said: "Globally NGOs are moving away from the assumption that knowledge transfer is a one-way process from highly developed countries to emerging markets.
"This is based on the realisation that emerging markets are rich in creativity and innovation as a result of operating under adverse clinical conditions and circumstances.
"Our solution is aligned with this, which we believe will lead to increased sustainability and sponsor and donor opportunities through the diffusion of information, knowledge, research and expertise from emerging markets."
Alongside Mr Agarwal Team Chipo consisted of MBA students from Thunderbird School of Global Management in the US, the University of Canterbury in New Zealand and Nanyang Business School in Singapore. They had to collaborate online over five months to come up with the 12-page business plan, which WCC says it will implement.
"Team Chipo presented a really strong business plan that we will definitely follow up on," said Allison Ogden-Newton, Warwick Business School alum who is now CEO of WCC.
Poor diagnosis, along with too few specially trained doctors and nurses and the mistaken belief that child cancer is too difficult to cure, combine to create very low survival rates in countries like Ghana.
But the WCC has found that child cancer is curable even in resource-poor countries. It's possible to save the lives of 50 to 60 per cent of children with easily treatable malignancies with relatively simple and inexpensive drugs and procedures that have been known to doctors for decades.
Mr Agarwal added: "Brain drain is a significant issue for developing countries like Ghana. It cannot afford to lose any of its paediatric oncologists to job offers in richer countries, which may well happen if they are trained in somewhere like the US and the UK. The costs are also much higher to send them to the UK and US to train, so using expertise in sub-Sahara Africa makes more sense.
"The initial graduates of this programme will then spread their knowledge and slowly amplify the detection of childhood cancers."
For more on the FT MBA Challenge click here.