WBS a sponsor of Brightest Minds Scholarship Contest
17 February 2014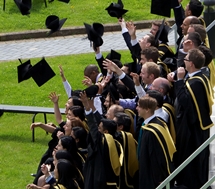 Warwick Business School is one of 25 premier business schools from around the world sponsoring a competition with an MBA scholarship of $25,000 (around.£15,000).
The Economist GMAT Tutor Brightest Minds Scholarship Contest is open to anyone who takes the Economist's GMAT simulation test.
The GMAT (Graduate Management Admission Test) is widely used by business schools to assist them in assessing an applicant's suitability and level of skills for studying a graduate management course, usually an MBA. The Economist simulated GMAT exam uses adaptive technology similar to that of the real GMAT, so the difficulty level adjusts according to the test-taker's ability.
There is no charge for entering the contest, which is open until 25 April. The highest-scoring participant, to be announced on 15 May through the Which MBA?Online Fair, will receive a $25,000 scholarship to one of the 25 sponsoring schools. Five runners-up will receive a free GMAT preparation course from Economist GMAT Tutor, worth $550 each.
Dr Sotirios Paroutis, WBS Assistant Dean for Generalist Masters, comments, "We are pleased to be one of the sponsors of this competition, which gives outstanding candidates a chance to win a generous scholarship and develop their skills and knowledge through studying for an MBA at a top school. The Warwick MBA is climbing the world rankings because of our reputation among employers for rigorous scholarship combined with real-world relevance, and among our MBA participants for helping them achieve their career aims."
Further information
The Warwick MBA is by intention and design a generic business degree for would-be leaders who already have managerial experience. It can be taken by full-time study, by distance learning, or with attendance at one-week modules on campus (the Warwick Executive MBA). All successful students graduate with a Warwick MBA; there is no differentiation made between study modes. Additionally, the Warwick Global Energy MBA is designed for managers working in or with the energy sector anywhere in the world.