WBS alumna's dissertation wins £1,000 and award
30 August 2016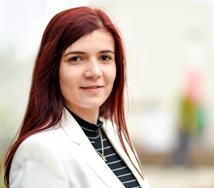 WBS alumna wins The May Hicks award and £1,000 cash prize
Temenuzhka Panayotova is a MSc Business Analytics graduate
Her dissertation project focused on banks and customer engagement
UniCredit Bulbank used her research for a successful marketing project
A WBS alumna has won £1,000 as part of a national award recognising her dissertation.
Temenuzhka Panayotova, an MSc Business Analytics graduate, was awarded The May Hicks award by the Operational Research (OR) Society for her research into data mining and customer relationship management.
Temenuzhka, who is now working for an IT company in her native Bulgaria, said: "The May Hicks award proves that when you put your heart, time, and effort into something, it always pays off.
"This is not an award only for me – it was an award for Dr Strauss, my supervisor, and the whole WBS staff, thanks to whom I had everything I needed to be successful in my external project dissertation.
"This award motivates me to think bigger and strive for more, because for me the masters programme and the dissertation are just the beginning: there are many more analytics problems out there to be solved, many companies to be helped, and consulting projects to be carried on."
Temenuzhka conducted the project Effect of development of personalized offers to sub-segment of clients. Focus on upper mass segment cross-sell and up-sell from May 2015 until August 2015 as an external dissertation project with UniCredit Bulbank.
The aim of the project was to explore which banking products are typically bought together by whom, and to decide which product to advertise to which customer so as to increase the conversion rate.
"I think my dissertation stood out, because it was based on a real problem that most banks face – how to increase their engagement with customers, which products to promote to their customers and what is a typical buying cycle," added Temenuzhka, 25.
"It was important to have a model that can be updated constantly with more information and data so that UniCredit Bulbank could adjust it to its needs later."
On the topic of Temenuzhka's project, Nadezhda Vicheva, Head of CRM Unit UniCredit Bulbank, said: "She was well prepared on the subject and we are glad that we had the chance to see the point of view and the methods used by an external person to our department.
"This allowed us to think over some of our practices and see possible things that we are missing. The findings from the analysis conducted by Temenuzhka were implemented in our marketing campaign and produced impressive results for the targeted segment."
The OR Society funds its annual awards for student projects from a bequest from the estate of Mrs May Hicks, wife of Donald Hicks, OBE, a major contributor to Operational Research and the first treasurer of The OR Society.
Arne Strauss, Temenuzhka's supervisor, and Academic Director of MSc Business Analytics said: "Temenuzhka produced outstanding work and I am proud for her to have won this prestigious national award."
Temenuzhka's work has also been featured in the OR Society's IMPACT Magazine (Spring 2016). The magazine is available online here.