WBS alumnus completes epic Atlantic adventure
30 March 2016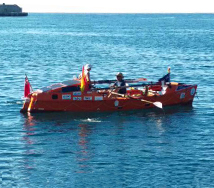 WBS Alumnus completes Atlantic row
Martin Bramwell rowed 2,900 nautical miles in total
Trip alongside rowing partner Adrian Lindon took 72 days
The pair were raising money for Lupus UK
WBS alumnus Martin Bramwell has successfully completed his epic journey and rowed the Atlantic.
Alongside his rowing partner Adrian Lindon, the Executive MBA graduate rowed 2,900 nautical miles (roughly 3,337 miles) as the pair braved storms, battled the elements and endured pain and agony to get them over the finishing line.
Martin started his journey five days before Christmas, leaving from San Sebastian de La Gomera in the Canary Islands and rowing for 72 days before arriving at Nelson's Dockyard in Antigua in what is billed as the world's toughest rowing race in order to raise money for Lupus UK.
"It feels fantastic to have finally reached the shores of Antigua and the reception we received was spectacular," said the 49-year-old.
"It was a challenge. It was a repetitive daily grind; it was like Groundhog Day - you get up and grind day in, day out. You've got to be self-disciplined to do that. We're a little older than the average team, so we creak and groaned a tad more than most!"
The pair finally completed the challenge on March 1, meaning they had been at sea for more than two months, with the Talisker Whisky Atlantic Challenge officials recording their finishing time as 72 days, 12 hours and 21 minutes.
As part of the team Coventry Five-O, Martin and his team-mate rowed their ocean boat, called Dream It Do It (DIDI for short), alongside 25 other crews featuring a mixture of solo, pairs and fours.
Among other things the duo were caught in a storm that forced them back with waves as tall as three or four storeys high but the boat, pulled through.
They encountered sharks, dolphins and birds galore, and Martin was left perplexed as a butterfly landed nearby before fluttering off.
Martin added: "This is definitely a one-trick pony, never again! I take my hat off to anyone doing that more than once."